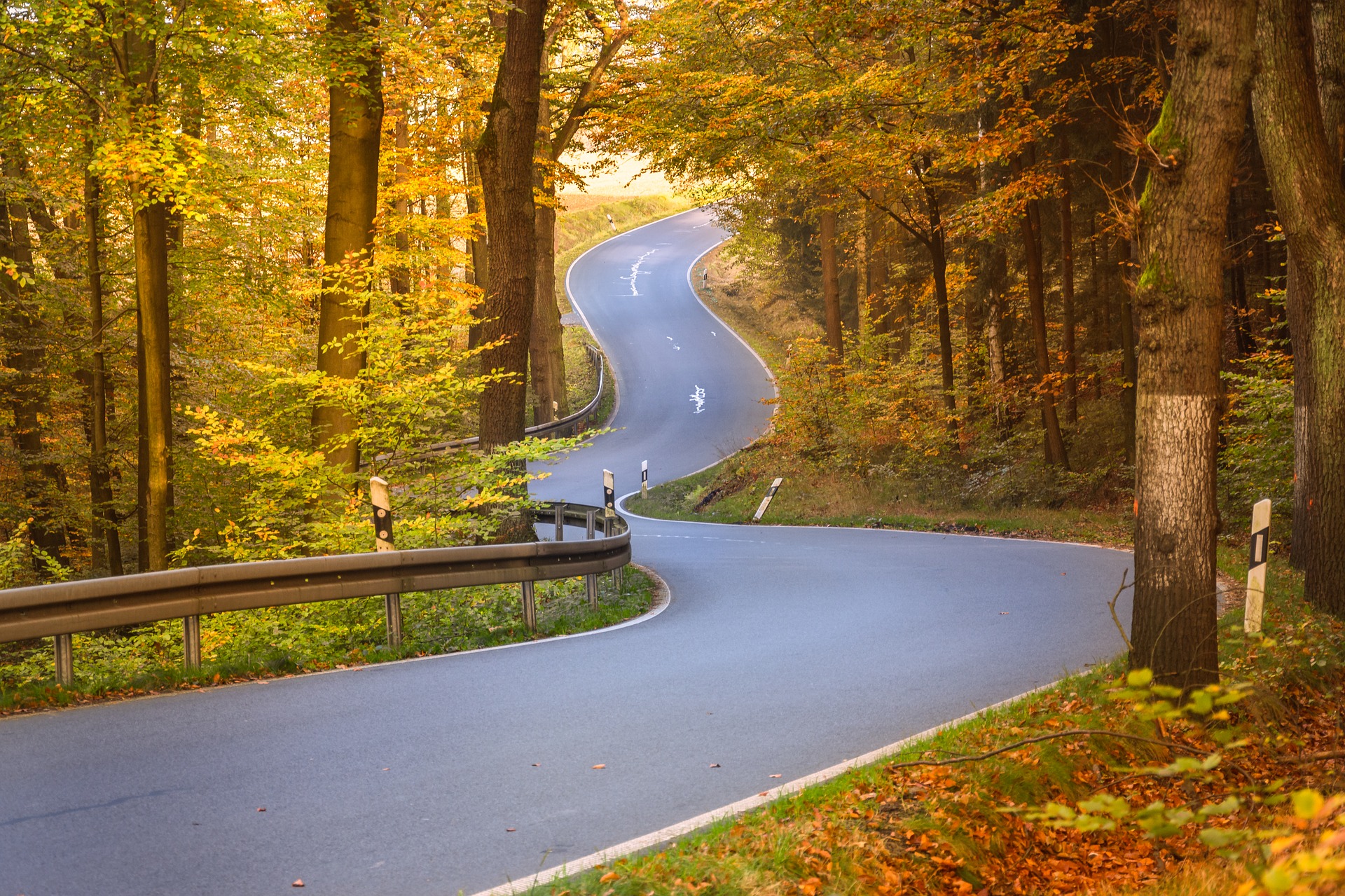 What are the Best Motorcycle Rides in the Northeast?
Report based on a full-year of 2019's data of the Best Motorcycle Roads in the Northeastern region of the United States
To produce this report, we looked back at the entire 2019 motorcycle riding season's data gathered by the MotorcycleRoads.com (McR) web site. This data comes in from the literally millions and millions of page views accessed on McR over the course of a year by various motorcycle riders (over 1 million riders visit motorcycle roads annually). If you are curious as to the details of how the popularity ratings are calculated, see Note 1 at the bottom of this article. Also, we used the US Census Bureau's definition of the Northeast region (Connecticut, Maine, Massachusetts, New Hampshire, New Jersey, New York, Pennsylvania, Rhode Island, and Vermont).
Overall, the Northeast currently has 247 registered motorcycle roads on McR and each year this number grows as riders add more of their favorite motorcycle rides to the collection. At the time of this analysis (see Note 1 at the bottom of this article), the average state in the Northeast had 27 registered motorcycle roads with the following Northeastern states rising to the top of the heap:
71 Pennsylvania motorcycle rides lead the pack in the Northeast and have since about 10 years ago when Pennsylvania overtook New York. Nationally, Pennsylvania ranks strongly as well with the 5th most registered motorcycle roads in the USA and about twice the national average (36).
60 New York State motorcycle rides places that state at second place in the Northeast. NY has been at or near the top in the Northeast for as long as McR has been in existence (started in 1998)
27 Massachusetts motorcycle rides places that state in third place with the remaining 6 Northeastern states falling behind that.
For a complete listing of registered motorcycle road totals for each of the states in the Northeast region, refer to the below bar chart: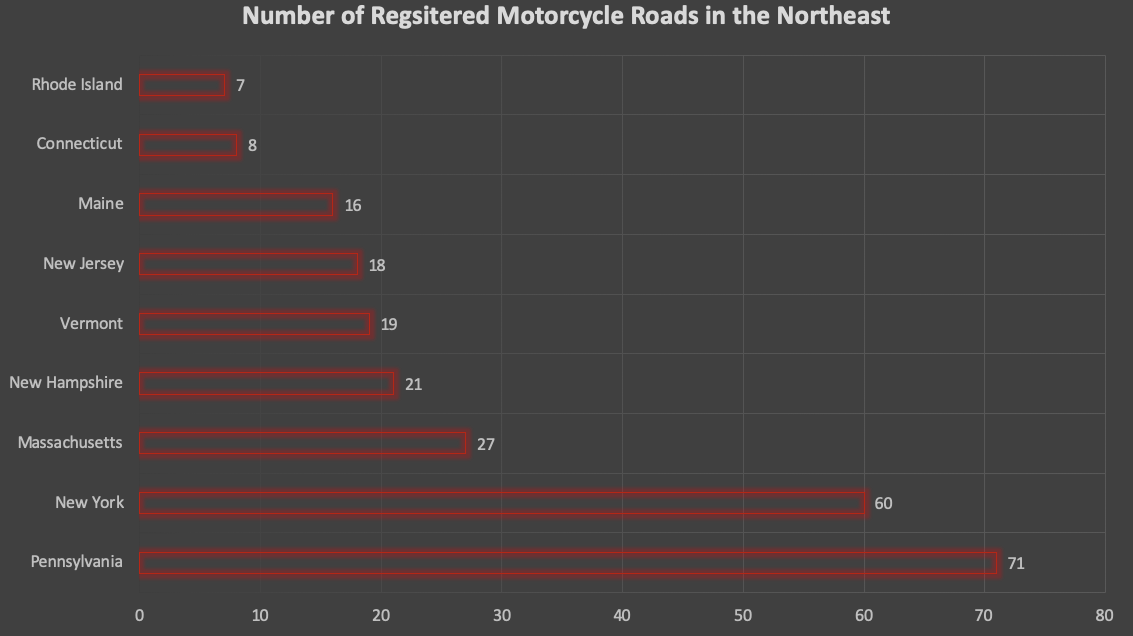 Summary of this year's Top 10 motorcycle rides in the Northeast rankings:
Moving on from the discussion of quantity of motorcycle rides and on to the quality of motorcycle rides in the Northeast, reveals another interesting trend about Pennsylvania. And that is that not only does it have the most registered motorcycle roads but also is currently the home of the #1, #2, & #3 rated motorcycle routes in the entire region. It's not until the 4th spot does another state enter the rankings with a New Hampshire motorcycle ride (I personally drove this New Hampshire motorcycle ride back in the fall of 2015 on a motorcycle trip to New England in the Fall with my dad and thought this was a truly wonderful Northeastern motorcycle road!). A PA motorcycle ride takes the 5th spot and a sprinkling of the remaining slots but we also see motorcycle roads from Maine, New Jersey, and New York in the 6 – 10 slots.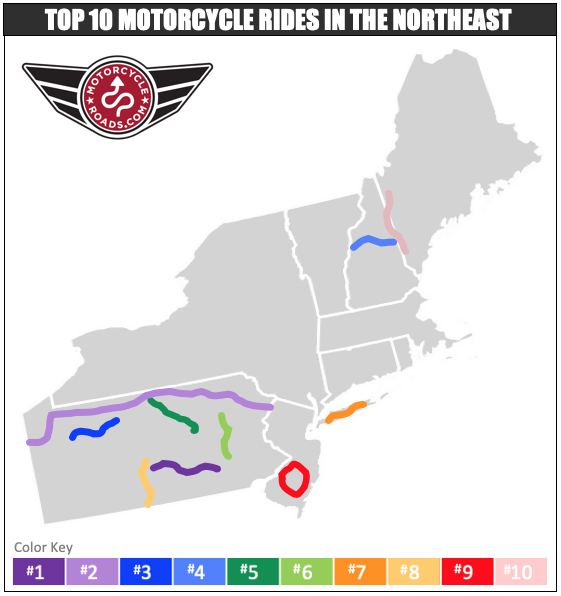 So, with all that summary information behind us, let's jump in to the listing of the 10 Best Motorcycle Rides in the Northeast and I'll try to eek out just a bit more suspense by starting the list in reverse at the #10 ranked motorcycle ride and working our way to #1:
#10 Route 113 Border Cruise - From Gilead To Fryeburg (Maine with a small portion in New Hampshire)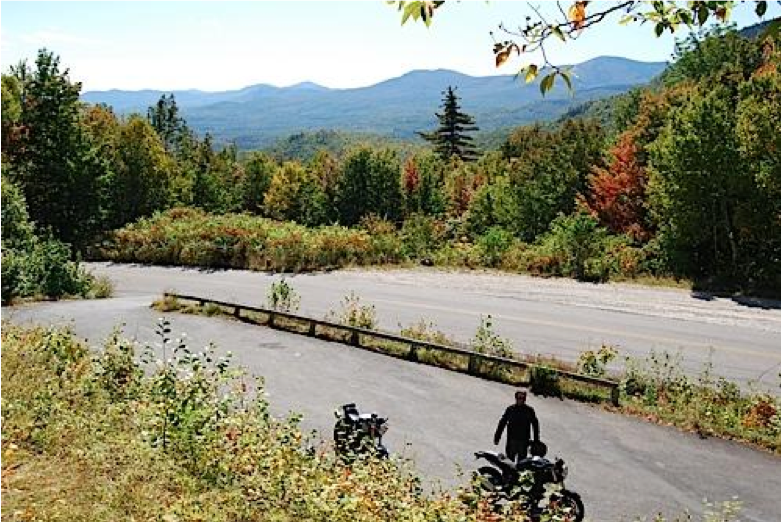 As I mentioned above, in the summary, I took a motorcycle trip in the fall of 2017 (New England in the Fall is NOT over-rated … every rider should experience that at least once) with my Dad. This particular motorcycle route, was hands-down my favorite ride of the entire trip. It simply was magical as it felt like a motorcycle ride that Walt Disney would have created if he was ever in to that kind of thing. From nearly start to finish, my Dad and I rode under a canopy of magnificent fall colors as pristine pavement meandered up and around some of the White Mountains. I will say that the reason it is probably not ranked higher is simply for the fact that it is pretty remote and very few riders are in the area to give it a try. That being said, if I ever head back for another motorcycle ride through New England in the Fall, this will definitely be on my must ride again list!!!
#9 Tabernacle, NJ Loop (New Jersey)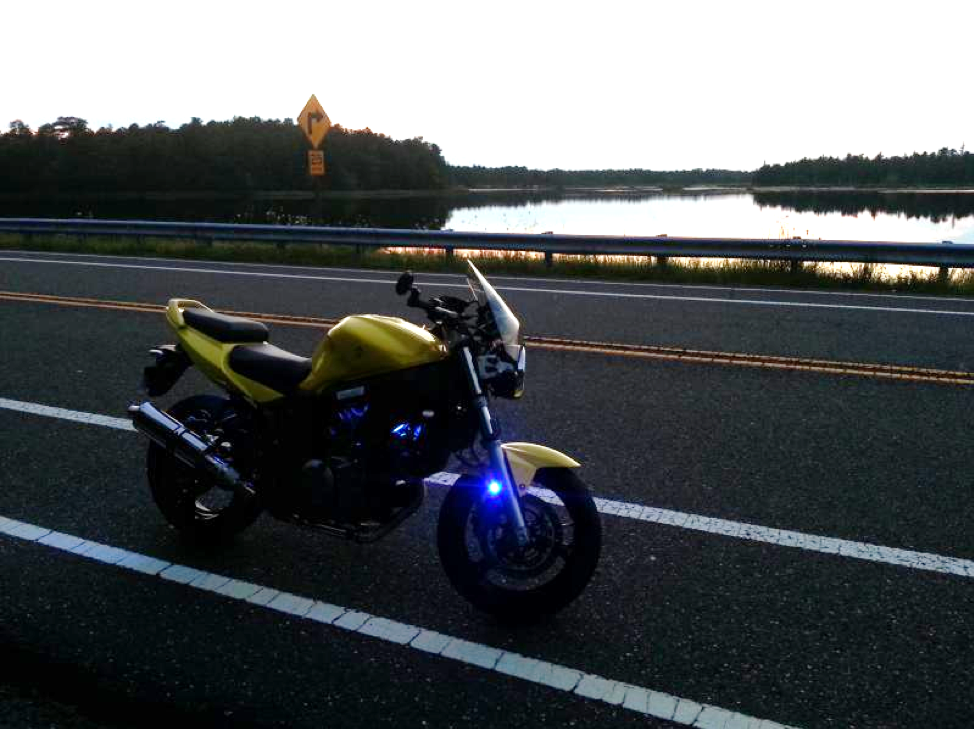 This motorcycle ride was submitted by Herbro back in 2011 and travels through the Wharton State Forest and is overall a nice quite country road. However, like a lot of suggested motorcycle rides on MotorcycleRoads.com, there is an eclectic little twist to this ride … it comes with a unique little opportunity to take in some scenery that most riders probably have never seen before: cranberry bogs. These are apparently owned by the Ocean Springs company and end up in bottles and glass around America as different forms of cranberry juice! Besides that the route is universally described as a rare escape from the hustle & bustle of many other NJ roads and one rider/commenter state that "This is the best area to ride in South Jersey. This particular loop is one of my favorites." Overall, it doesn't exude some of the excitement you get from a lot of top motorcycle roads but I'm happy that New Jersey has a route that made the Top 10 and hope some of you get a chance to check this ride out and leave some comments to tell the rest what you thought!
#8 PA 26 - MD Border To Everett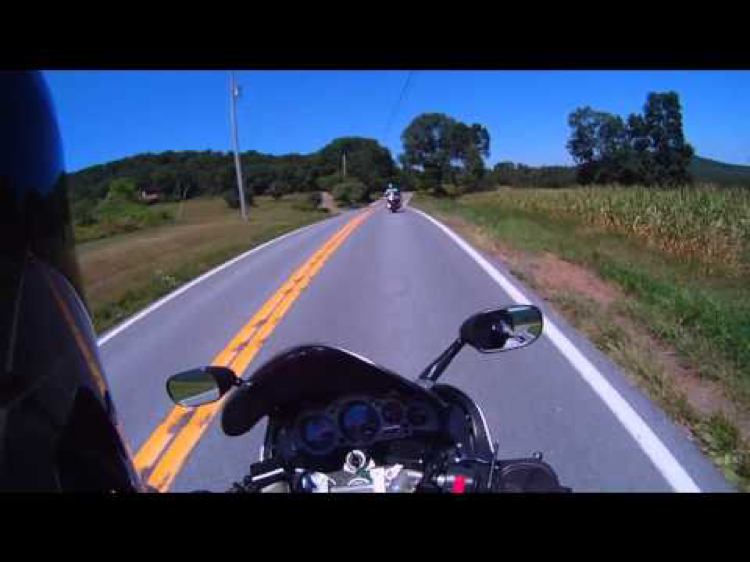 The next route is another quiet little (20 miles) drive found in the South-central part of Pennsylvania called PA 26 - MD Border To Everett. This ride has a strong Rider Rating at 4.5 out of 5 and is know for great scenery and great twisties. Read through the comments and you'll see that some riders actually use this as a "tune-up" for driving the world famous – Dragon's Tail in NC/TN. Another rider reviewer goes so far as saying that he lives nearby in "Garrett County MD and Rt 26 into PA is without a doubt my favorite, favorite road to ride. Simply beautiful!" while another states "This is a great road. The corners winding through the middle of the farms is very cool, kind of a WV scene. Runs out of twisties a little too soon but still a great ride."
#7 Long Island's North Shore Tour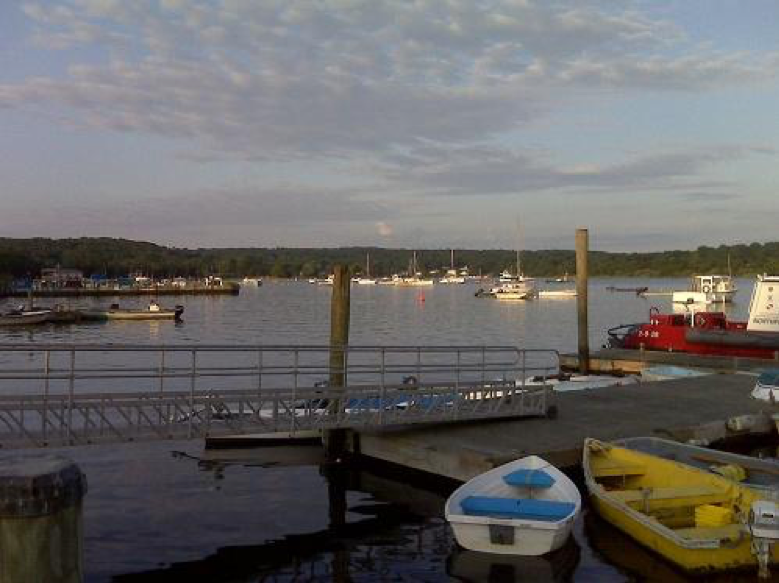 The next one I'm also excited about seeing in the Top 10 motorcycle rides in the Northeast as it is one of those "surprising city routes" that most people would never think could exist inside the confines of a large metropolitan area such as New York … but it does! This one is on Long Island and the author has done a beautiful job of writing a great description of this ride on MotorcycleRoads.com so you'll know exactly what to expect. The ride includes a section with a drawbridge that near Oyster Bay and hugs the shoreline for many stretches. As can be expected, this shore run also offers access to great sea-food restaurants as well as other great tourism opportunities you would expect on a coastal setting. So if you are a rider in the NY City metro area and haven't tried the Long Island North Shore motorcycle road, get over to Long Island and enjoy this 60-mile shoreline drive!
#6 Gold Mine Road To Route 125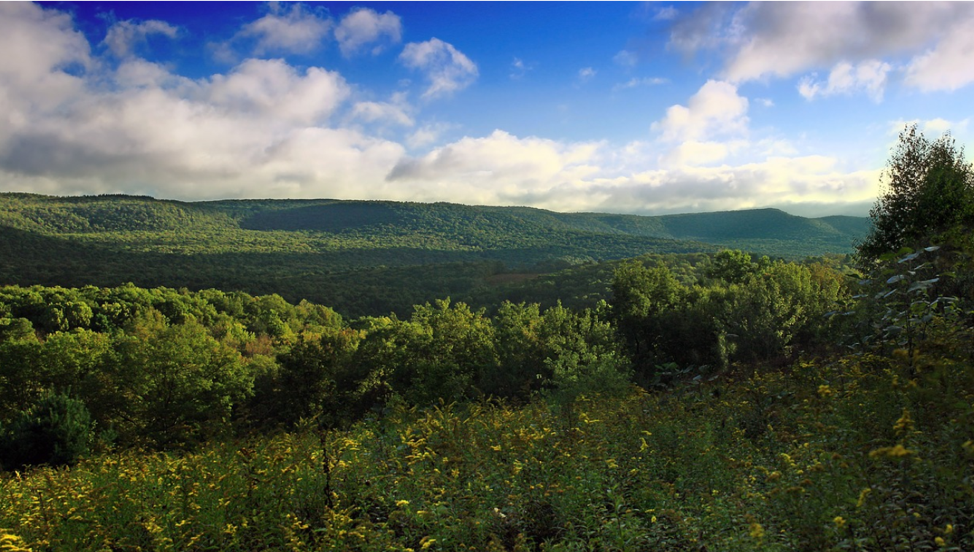 #6 brings us back to Pennsylvania countryside for a 33-mile motorcycle ride that was registered way back in 2007. It has gained a reputation for its turns and elevation changes as one rider rater commented that "This combo of Gold-Mine Road and Pa 125 to Shamokin is one of the most challenging roads in Pa if taken at a spirited pace. There are quite few tight switchbacks, elevation changes, sweepers and some wide open spaces." The author gives the route 5-stars for both scenery and drive enjoyment and points out that there are some nice little restaurants and gas available on the drive too.
In North-central PA between Scranton and Pittsburgh, PA is a motorcycle ride that the author described as 70+ miles of motorcycle riding through secluded state forest lands with "tight-turns, elevation, changes, and sweepers." The route is 89-miles long and has a healthy 21 Rider Ratings on McR giving you their opinion and advice on this lovely country ride where multiple riders commented on seeing herds of elk. One Rider stated: "I took this road last Summer (2008) on my Maxi-Scoot and I thought it was the most beautiful ride I have ever taken. I picked up Rt 44 at Allenwood, PA. I crossed over to Austin on Rt 872, which I picked up just before Coudersport. And came back to Rt 80 by way of Rts 120 and 220s. Awesome scenery and just about total isolation on 872. Was glad to get gas at Austin, since I was running on fumes when I arrived there. Perhaps next time I will see some PA elk."
#4 Kancamagus Highway (AKA The Kanc)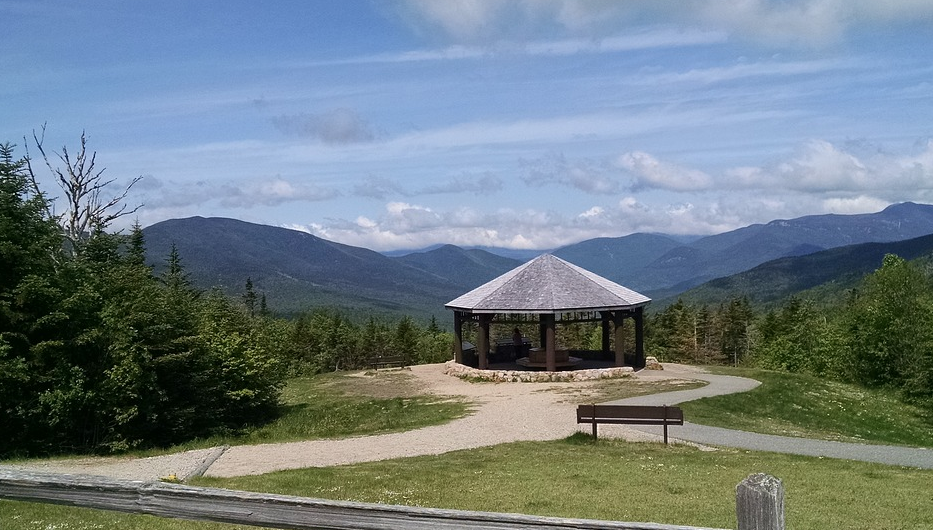 The "Kanc" as many local riders call this motorcycle ride was one of the routes I drove on that fall trip to New England with my Dad and it was a highlight of the trip. The timing of our ride with the fall colors was near perfect, the condition of the road was great, the only issue we had was this road attracts "leaf peepers" from all over so there was a fair amount of traffic to contend with. But the scenic beauty and the nice winding roads definitely overcame any congestion issues and it was a great ride as we were treated to fabulous fall colors the whole way and a lot of great places to pull over, snap a few pictures, and/or even take a small hike to a nearby stream or scenic overlook. Overall, the Kanc is a classic Northeastern motorcycle ride that if you combine with the fall colors, can be a once in a lifetime motorcycle ride for you.
#3 Route 666 - One Hell-Of-A-Ride!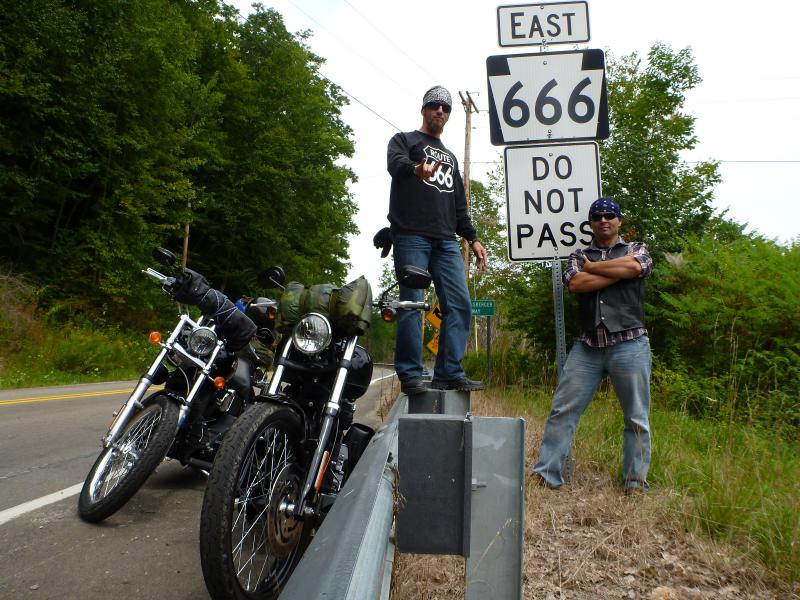 As we enter the Top-3 it will be a Pennsylvania motorcycle ride show from this point onward. And, we start with a PA route up in the Northwest corner of the state, driving the Alleghany mountains, with a lot of scenery and twistees to offer as well as a pretty cool name: "Route 666 – One Hell of a Ride!" The scenery includes rock formations, babbling creaks, and bridges all on a on a meandering path … I like how the author describes the drive enjoyment: "every bit of its 30 miles are covered with banked turns and abrupt, small elevation changes. There's even the 'cork screw' downhill turn section about halfway through." So, if you can get to Northeastern PA you'll be treated to an exciting twisty motorcycle ride with a notorious name.
#2 The Grand Army Of The Republic Highway - Route 6 (PA)
Up until now, each of the PA motorcycle rides discussed have been shorter routes that are on the twisty side of things; this next one is dramatically longer and a bit less curvy (still a lot of fun though!). The Grand Army of the Republic Highway – Route 6 PA motorcycle ride has been on McR for a lot of years now as it was registered way back in 2004. It has climbed its way to the top of the list as it has off and on been the #1 motorcycle ride in PA. It has a whopping 29 Rider Reviews on McR and is rated at 4.3 out of 5. Over the years riders have submitted a lot of great photos so check those out as they describe it better than words can but suffice it to say this 378-mile motorcycle ride traverses most of northern Pennsylvania and treats the rider to great roads, great scenery, and plenty of drives through some vintage old-town USAs.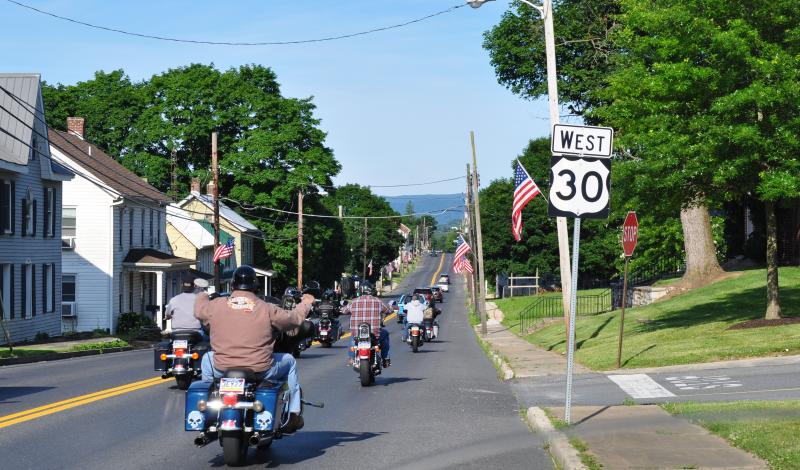 At the time this report was generated, the best motorcycle ride in PA lies in southern PA between Harrisburg and Pittsburgh and covers a 40-mile stretch of US Highway 30. Like a lot of rides on MotorcycleRoads.com, this route has some historical significance as it (Highway 30) is named after our Great President Lincoln as it was this road that he took to Gettysburg, PA to deliver the Gettysburg Address in Nov 19, 1863 as it was essentially the turning point of the US Civil War. Check out the great photos posted on McR and you'll see this route offers some incredible scenery, mountain riding, and access to a great slice of American history … you'll get a feel why this route has 30 Rider Reviews on McR and why it currently is rated at 4.38 out of 5 and the #1 motorcycle ride in the Northeast!
Interested in more motorcycle ride articles like this?
Note 1: All facts and figures below were gathered during early Jan 2019 and will change over time as new motorcycle roads are added to the collection.
Note 2: How were these popularity ratings calculated?
A motorcycle road's popularity can be based on a wide variety of factors. Our analysis considered some obvious indicators of motorcycle road popularity such each roads' "Rider Rating" scores (star ratings) and which motorcycle road description pages were visited the most. But, the analysis dug deeper and looked at some less obvious yet valuable indicators of a motorcycle road's popularity such as how often a given motorcycle road was added to riders' "To Ride" lists, how often a given motorcycle road was added to riders' "Rode it" lists and enthusiasm indicators such how often photos and/or videos were uploaded for a given road and which roads are attracting the most buzz among motorcycle roads indicated by those roads that are receiving the most number of new/recent comments. For the sake of being consistent and as objective as possible we use a popularity algorithm that "crunches those number" and allows us to develop a ranking of the popularity of each of the motorcycle roads used as a basis for this guide.
---
---

Conclusion
As always, I hope to provide you with insightful & valuable motorcycle riding community information to help you get the most out of all of your motorcycling experiences.
I'm always looking for ways to make MotorcycleRoads.com better and more helpful so if you have any suggestions to improve the website, just contact me through the Feedback button you'll find near the top of every page. And as always, if you have a favorite motorcycle road of yours that is not yet registered on MotorcycleRoads.com, please get that favorite of yours "on the map" by registering it at MotorcycleRoads.com. Registering a motorcycle road (or event, or club, or place) is quick and easy and you'll be helping out our motorcycle riding community!!!
Lastly, if you are interested in having a monthly summary of motorcycle riding community updates/new information sent straight to your email box, sign up for our monthly (or less) eNewsletter. Or, if you are into social media, follow me at Facebook and/or Twitter.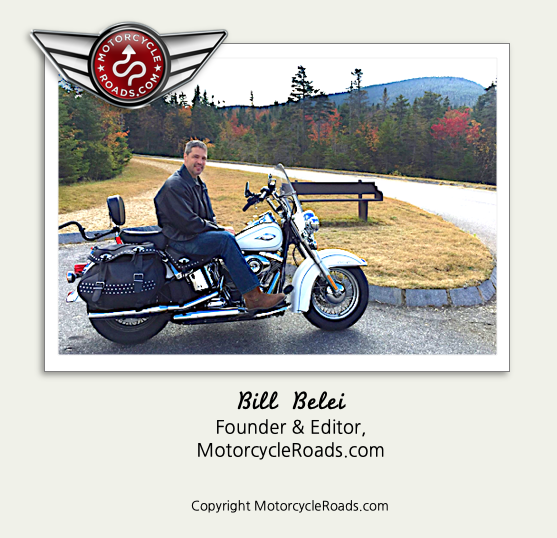 ---
---