NOTE:  If you are reading this, you are at the NEW McR Version 10.0 just released to the public as of October 29th, 2019.  There is much clean up work that I need to do now and the below "About Us" page is one of those things I need to get to once I work on all the bigger problems.  Just wanted you to know I am aware and will get to it.  Enjoy the site ... enjoy the roads!
Bill Belei
---
Check out the options for following MotorcycleRoads.com.
Table of Contents:
- Read the story of MotorcycleRoads.com; our history
- Read the story of this latest version of MotorcycleRoads.com; Version 7.1
- Sign up to receive our monthly newsletter; new-road-alert newsletter
- Learn how to email MotorcycleRoads.com; contact us
Our History
Not All Roads Are Created Equal
The MotorcycleRoads.com story:I joined the military in 1986 and served for over 25 years until I retired in 2011. Over those years, I moved 13 times and put a lot of miles on motorcycles exploring different parts of the country and finding out firsthand the diversity of our country's roads and scenery. Yet, any of you who have spent a lot of time on a motorcycle know that "not all roads are created equal" and there is nothing like a great motorcycle road. Unfortunately for me, every time I moved, I was faced with the sometimes challenging task of finding where the good local Motorcycle Roads were. Making matters worse was that as my life got busier with family and career responsibilities, I found that I had less time to go out hunting for good roads.
So back in 1998 I decided to start MotorcycleRoads.com as a way for all of us to quickly and easily find quality Motorcycle Roads in whatever part of the country we live in. And MotorcycleRoads.com goes beyond just providing you with a list of roads to try, we provide you with detailed descriptions of the routes' scenery, road quality, and even the things to do along the way (roadside amenities). The route descriptions often times includes pictures, reviews and ratings from other riders, and even videos of the route. And, now the site even tells you of motorcycle events, clubs, and hangouts along the route and within the state or province. Overall, millions of motorcycle riders are discovering that visiting MotorcycleRoads.com is the first step in finding and planning great motorcycle rides.
MotorcycleRoads.com - great roads lead to great rides!
Scenery
Ride Enjoyment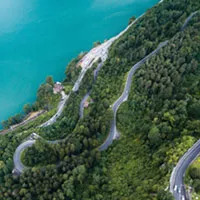 Tourism Opportunities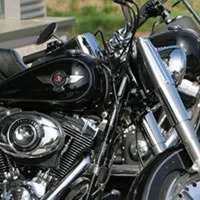 MotorcycleRoads.com road descriptions are designed to satisfy all rider road preferences. Some riders focus on roads that travel through areas with beautiful scenery. Other riders want roads that challenge their driving skills and allow them to push the capabilities of their motorcycle. And other riders look for roads that offer plenty of things to do off the bike for them and a riding partner or passenger. These people enjoy roads that offer access to museums, shopping, parks or other forms of entertainment. And, since every MotorcycleRoads.com route describes and rates these three key qualities, you will be able to find roads that match what you are looking for. Not only do we describe the route but we give you vital information including directions to and through the route (written directions and a map), we provide you with demographics of the contributor such as name or nickname, when the route was contributed, and the contributor's motorcycle type. We also let you know the length of the route, tips about what there is to see or stop at along the way, and even give you a link to the route's real-time weather forecast (weather forecast for the start or end point).
Bill Belei
s Founder & Editor, MotorcycleRoads.com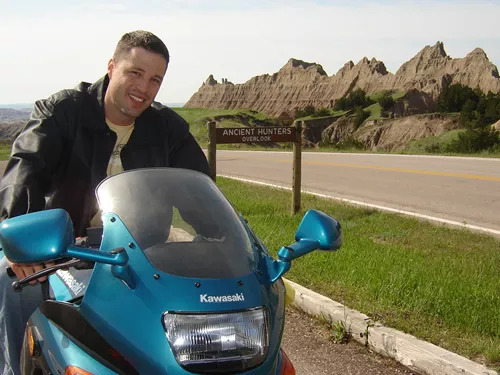 The new MotorcycleRoads.com - Version 8.0
(Updated as of June 2016) Version 8.0 is here! After Version 7.1 (added tabs, interactive photos, Yelp reviews, and better motorcycle event coverage), I wanted to modernize and clean up the entire look and feel of the site as well transform it to a "responsive design" (a design that adjusts its format depending on the device it is being accessed from (desktop, smart phone, tablet, etc). So, version 8.0 does all that and:
-Better content integration
-Drastically more powerfull search capabilities
-Enhanced motorcycle event information presentation
-Ads more valuable rider community content
To get the full rundown, visit The Top 5 New Features of McR V8.0 then take the survey and let me know what you think and tell me what you want me to focus on with the next version!
Newsletter
If you would like to receive our FREE (about) once a month newsletter that will give you a concise list of all the newest roads, rides, & events added to MotorcycleRoads.com simply fill out the newsletter sign up form. Its loaded with great info, and you can cancel at any time.
Contact Us
Contact Us with your comments, suggestions, or questions, send an email to the following address (I have to use a graphic of my email address to keep spam engines from overwhelming me with junk emails):
posted by Bill Belei on June 15, 2016