(Updated in January of 2020)
The MotorcycleRoads.com (McR) Story
My name is Bill Belei, and I joined the military back in 1986 and served for over 25 years until I retired in 2011. Over those years, I moved 13 times and put a lot of miles on motorcycles exploring different parts of the country and finding out firsthand the diversity of our country's roads and scenery. Yet, any of you who have spent a lot of time on a motorcycle know that there is nothing like a great motorcycle road. Unfortunately for me, every time I moved, I was faced with the challenging task of finding where the best local motorcycle roads were. Making matters worse was that as my life got busier with family and career responsibilities, I found that I had less time to go out hunting for good roads.
When it comes to winning online roulette, there is really no hint or trick that we can give you that will ensure your success. And if there was some way to win, we probably wouldn't share it! Roulette
Play the best minimum deposit online casino games
is a lucky game, which means you have more or less the same chance of winning as a player who has been playing for decades. That said, there are some general points that will increase your chances of winning in the long run, while ensuring that you do not get distracted and lose all your savings in a few hours.
So way back in 1998 I started MotorcycleRoads.com as a way for all of us riders to quickly and easily find quality motorcycle roads in whatever part of the country we live in or are traveling through. And, McR goes beyond just providing you with a list of roads to try, we provide you with detailed descriptions of the route's scenery, drive enjoyment, and even an idea of what there is to do in that area (tourism opportunities) when it is time to take a break from riding. Every route we describe has its own description page complete with written descriptions, ratings/reviews, pictures, and some even have videos taken during a ride of that route. MotorcycleRoads.com now takes things further by also informing you of motorcycle events, clubs, and favorite places of riders in various states, provinces, and/or countries. Overall, millions of motorcycle riders are discovering that visiting MotorcycleRoads.com is the first step in finding and planning great motorcycle rides because - great roads lead to great rides!
Over the twenty plus years McR has been serving the motorcycle community, we've had a lot of success in helping riders get the most out of their rides (as highlighted by the many inspiring rider testimonials received over the years).  And, the McR web site has really grown by leaps and bounds over those couple of decades as we've gone through many major upgrades & revamps and just moved into McR Version 10.0 as of about November of 2019.  A lot of great new improvements, enhancements, and functionality has been delivered by McR Version 10.0 and that major leap forward could not have been made without the generous support of donors who stepped up and provided a portion of the funding need to fund the V10.0 upgrade.  And, we're not done getting better ... not even close ... as we have big plans for the future and we hope you'll come along for the ride!!

Bill Belei
Founder & Editor, MotorcycleRoads.com

A couple final points to leave you with ...
I'm always looking for ways to make MotorcycleRoads.com better and more helpful so if you have any suggestions to improve the website, just contact me through the Feedback button you'll find near the top of every page.  And as always, if you have a favorite motorcycle road of yours that is not yet registered on MotorcycleRoads.com, please get that favorite of yours "on the map" by registering it at MotorcycleRoads.com.  Registering a motorcycle road (or event, or club, or place) is quick and easy and you'll be helping out our motorcycle riding community!!! 
Lastly, if you are interested in having a monthly summary of motorcycle riding community updates/new information sent straight to your email box, sign up for our monthly (or less) eNewsletter. Or, if you are into social media, follow me at Facebook and/or Twitter.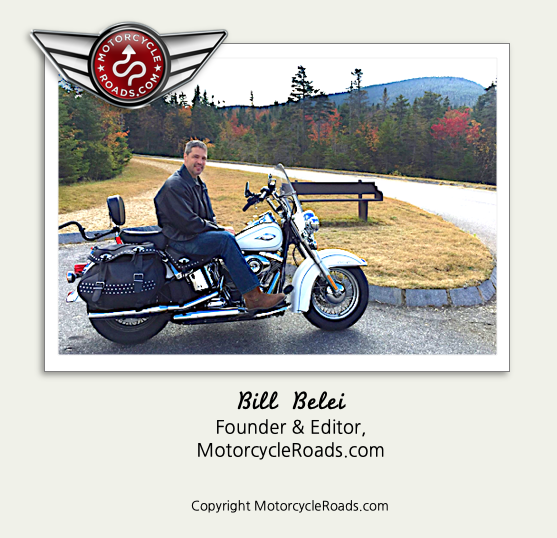 ---
---
---
---