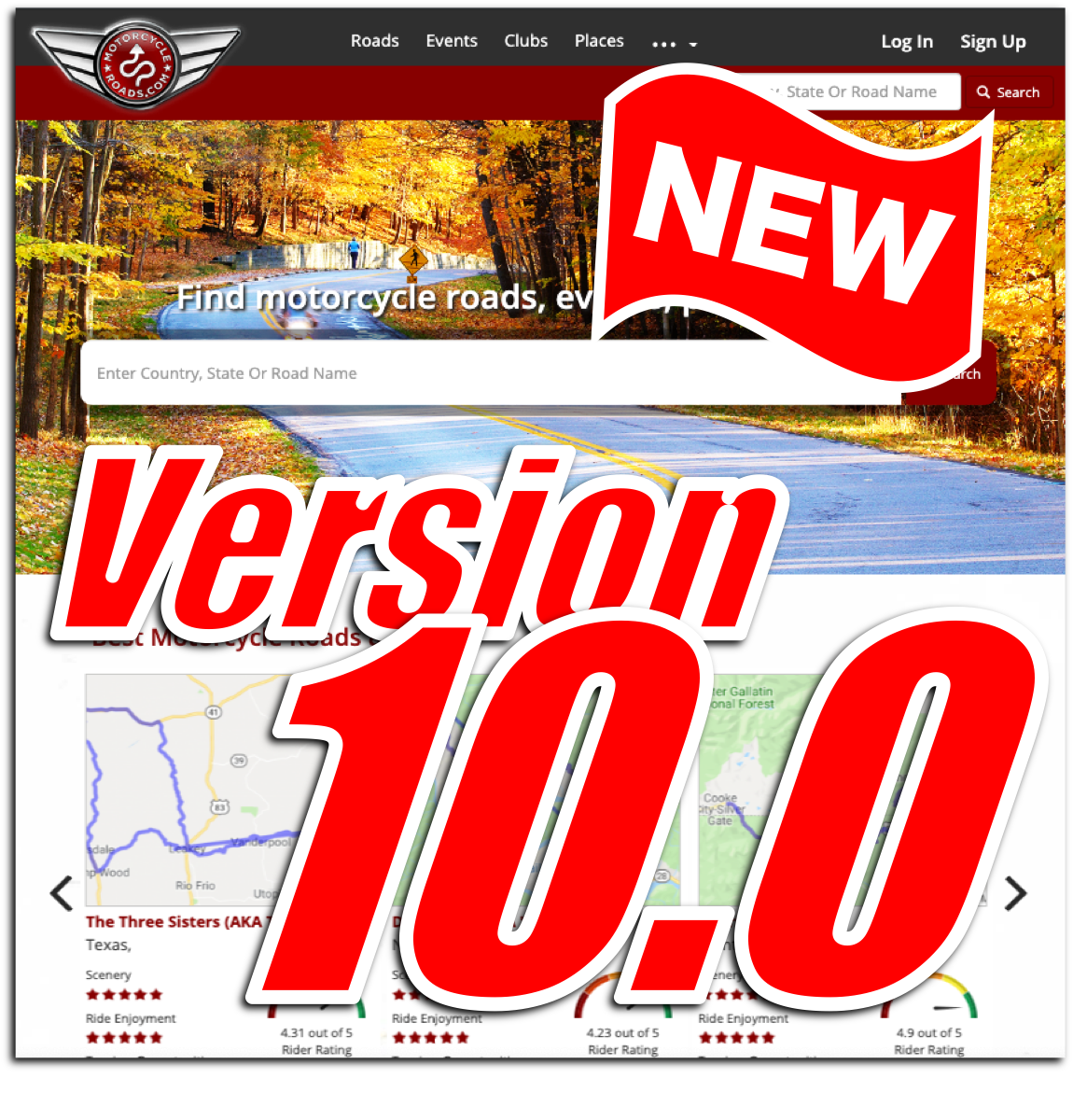 (Updated on Dec 26, 2019)
MotorcycleRoads.com (McR) Version 10.0 is ALIVE!!!
It has been in the long time in the making, and a bit of a rollercoaster of a project I'm finally wrapping up the revamp project - McR Version10.0. This scope of this update has been by far the biggest in all the years since MotorcycleRoads.com's launch way back in 1998.
The pre-version 10.0 version of the website was built on "2005-ish" website technology that served us all well for over a decade as it kept costs down and allowed me to keep the website free by taking the revenue the site made from ads and pump it back into the website. I used that revenue to pay for things like website hosting fees and to cover smaller periodic update projects to add new features each year. Back in those 'old days,' things were pretty simple and I even got to the point of starting to plan for a mobile app by gathering mobile app development estimates. Those plans all began to evaporate in about 2017 when that inexpensive yet dated website technology starting showing its age and began to crash for unknown reasons and functionality that had been working on the site for years would just stop working out of the blue. Once this started happening I had to to divert the site's ad revenue that would normally be used for adding new functionality instead to pay for projects simply to get the site back up and running and on its feet ... it got so bad that essentially all ad revenue money was being spent on McR site "rescue missions" and with that, the hope to build a McR mobile app had to go on hold (soon I'll be announcing a new effort to get McR on the path to a mobile app).
So in 2018 I decided that I needed to bite the bullet and finance a total revamp of the entire website to get rid of that dated technology foundation. To do this, I first had to pull off a successful GoFundMe campaign to raise the money to get the V10.0 project started. and thanks to the McR .03%ers, I was able get the revamp project started. Then I spent the better part of 2019 working on the V10.0 revamp project but that project is wrapping up and results are what you see today in McR Version 10. The site is now operating on a very modern, stable, scalable & "future-proof" technical foundation that is also used by some major corporations around the world. And, not only did V10.0 make the site simply more stable, but that upgrade also added some GREAT NEW FUNCTIONALITY too which is discussed below.
I'd also like to take this opportunity to give a shout out to the Boston based web design and development company that made this all possible - SMILE Media. Their web development expertise and experience really came through on this project!
So, to introduce the newly rejuvenated McR to the motorcycle riding community, I've created this article that describing the Top 10 new enhancements & features ... I'll be adding to it every other day or so until I get to the final of 10. So without any further adieu here are those top new enhancements/features:
---
| | | |
| --- | --- | --- |
| | | |
| | #1 - a drastically improved website with a cleaner design (see below), markedly more attractive look, feel, and more user navigation and information search capabilities! | |
| | | |

Have a look at the new site (screen capture image above) and you'll see that the theme is that of an idyllic motorcycle road ... I'm hoping as you click through the pages and read the guides to great motorcycle roads and routes, that you'll in a way, get at least a little bit of some of the same feelings and emotions you get when you are out twisting and turning through a great motorcycle road. So if you haven't taken the site for a test drive, now's your chance to see (and hopefully feel) the new McR V1.0!
| | | |
| --- | --- | --- |
| | | |
| | #2 - Every Page is Now Loaded with Motorcycle Information for YOUR State/Country | |
| | | |
Each page is now packed full of relevant content based on YOUR state/location of interest … for example, if you were to be at a page describing a motorcycle club in Texas, you'll also see on that same page a listing of the most popular motorcycle roads in Texas, the most recently added/new Texas motorcycle roads, popular upcoming motorcycle events in Texas, and more
| | | |
| --- | --- | --- |
| | | |
| | #3 - Routes Shown on State/Country Maps Are Now Color Coded to Show you the Five Best Motorcycle Roads | |
| | | |
McR is now using heat map based color coded route maps that let you quickly and easily see the best motorcycle roads in any state in the US, in Canada, and selected countries around the world. See the example map screenshot and color key above.
| | | |
| --- | --- | --- |
| | | |
| | #4 - Introducing McR Points ... Earn Points for Your Contributions to the Motorcycle Riding Community | |
| | | |

A new McR Points system will reward riders for contributions and activity on the site and provides them with status levels that show who the site leaders are. In the future we'll be establishing contests and prizes based around these new McR points.
| | | |
| --- | --- | --- |
| | | |
| | #5 - Modern and Powerful Sitewide Search & Filter Tools | |
| | | |

Drastically more powerful site search & filter capabilities allow you to find great motorcycle road, event, club, and places content quickly and easily
| | | |
| --- | --- | --- |
| | | |
| | #6 - All McR Members Now Have a New McR Garage | |
| | | |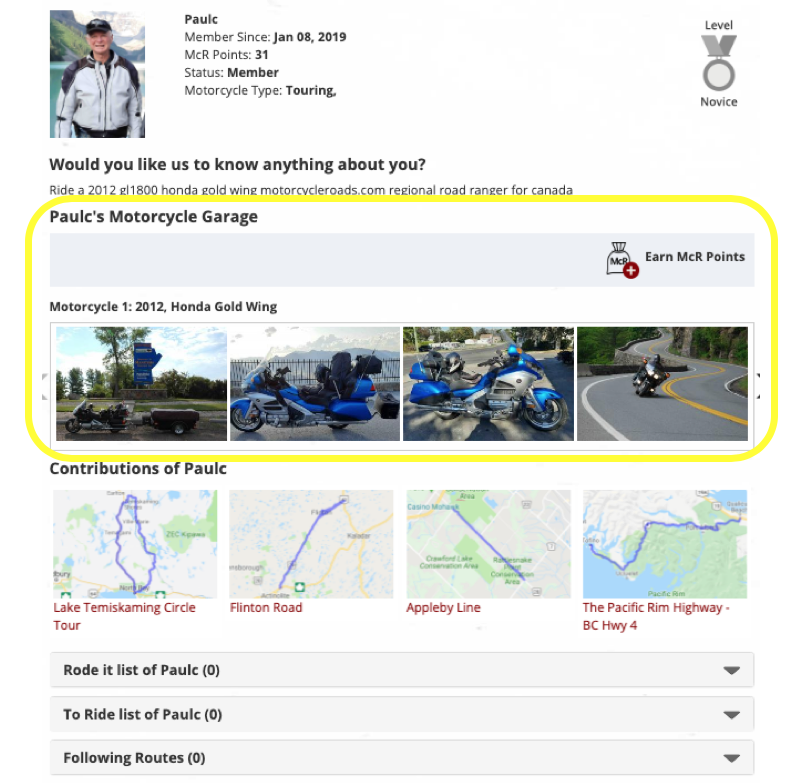 New to every McR user profile ... every user;s profile now has a "motorcycle garage" … now riders can show the world what you drive by posting pictures and information about your motorcycle(s). And, if you haven't taken the time to upload a photo for your profile picture, please do so now as we've made the process much easier.
| | | |
| --- | --- | --- |
| | | |
| | #7 - New Feedback & FAQ Buttons Allow You to Easily Get Help or Make Suggestions | |
| | | |
The new Feedback button allows users to contact me for help or provide suggestions or notify me of issues with the site. Also, the FAQ section posts answers to the most commonly asked questions I've gotten over the years.
| | | |
| --- | --- | --- |
| | | |
| | #8 - McR's New Blog/Article Section | |
| | | |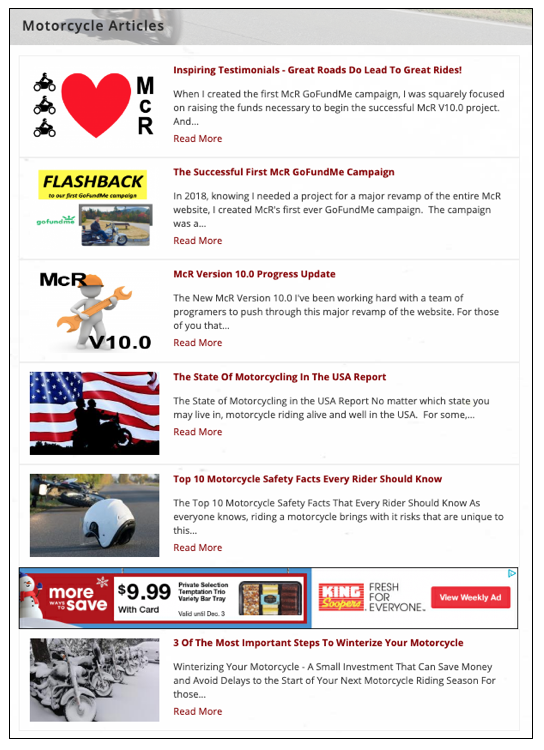 A great new Motorcycle Article section for housing interesting articles providing feature articles covering the best motorcycle roads in various regions of the country, seasonal riding guides for the USA, motorcycle safety guides and updates, feature articles on prolific motorcycle riders and there riding adventures, and many more topics of particular interest to the motorcycle riding fanatic community.
| | | |
| --- | --- | --- |
| | | |
| | #9 - A Much Improved Mobile McR Experience | |
| | | |

A much improved website experience on mobile devices such as smart-phones and tablets with content that automatically adjusts sizes of images, text, & options to fit the screen size of each device accessing the site.
| | | |
| --- | --- | --- |
| | | |
| | #10 - Now You Can Quickly & Easily Add Routes to your "To Ride" List or "Rode It" List | |
| | | |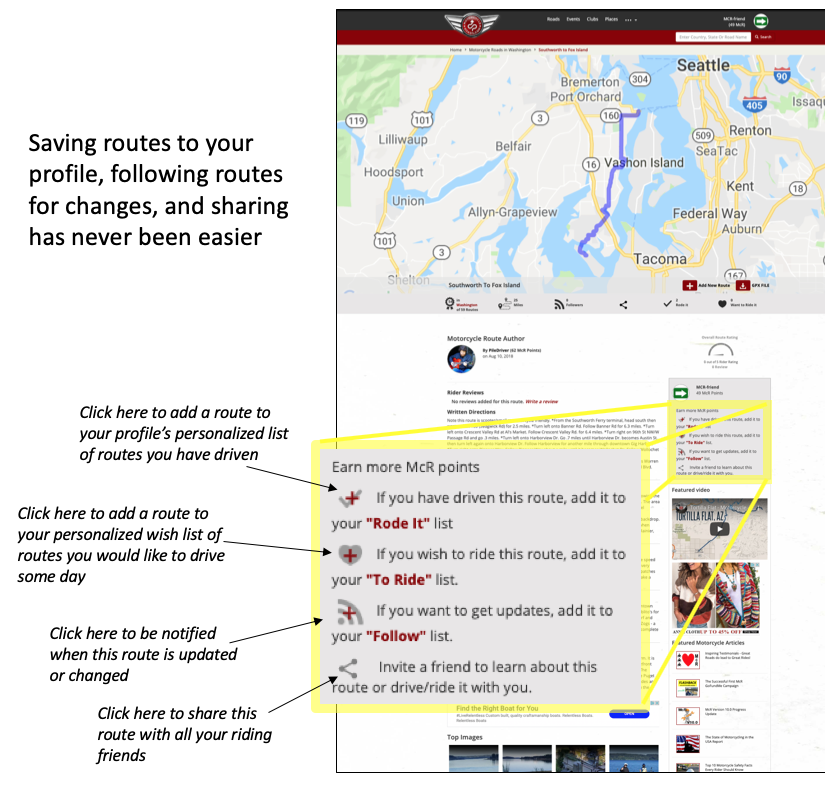 With just a single click you can add a motorcycle roads to your personalized "Rode It" (aka the routes you have driven) list or to your "To Ride" list (aka your ride wish list) list as well as follow these roads for updates.
| | | |
| --- | --- | --- |
| | | |
| | BONUS ENHANCEMENT - New Powerful Sharing Options | |
| | | |
Sharing great content from McR with your friends has never been easier or more powerful. Now you can share great motorcycle roads, events, clubs, and favorite motorcycle places with your friends using our built in share button which now offers over 20+ share options (email, Facebook, Twitter, Reddit, LinkedIn, Pinterest, etc, etc.).
As always, I hope to provide you with insightful motorcycle riding community information to help you get the most out of all of your motorcycle experiences. If you have suggestions or better yet, a favorite motorcycle road of yours that is not yet registered at MotorcycleRoads.com, please add it to list of registered motorcycle roads.
To have a monthly summary of motorcycle riding community updates/new information sent straight to your email box, sign up for our monthly (or less) eNewsletter.
Follow us on Facebook and/or Twitter.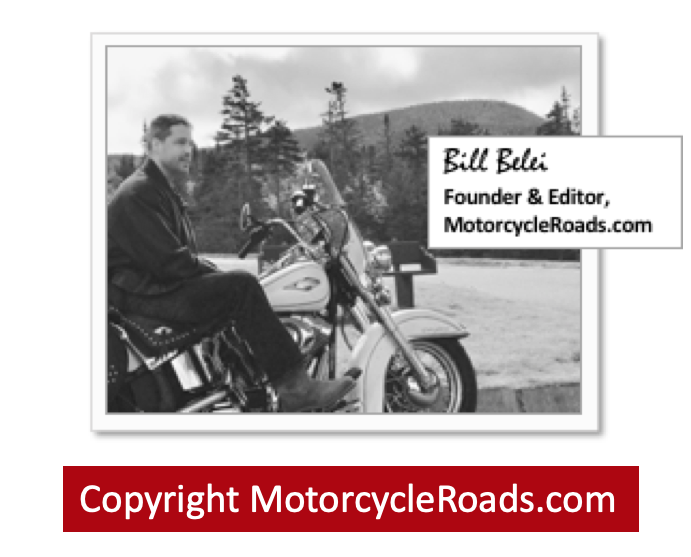 ---
---
---