Motorcycle Route Author
Written Directions
You will begin your day trip from Saratoga, Wyoming a small town in southcentral Wyoming. You will travel approximately 10 miles south on 130/230 then turn left onto 130 and travel over the Snowy Range to Laramie, Wyoming. As you enter Laramie, Wyoming you should turn right onto 220 and travel in a southwest direction past Woods Landing to what the locals call 'Three Forks' about 13 miles north or Walden, Colorado. At Three Forks, turn right and continue on 220 to Encampment and then back into Saratoga, 20 miles to the north.
Scenery
This loop ride travels first through the North Platte River valley before heading east toward Laramie. In this section of highway, you will increase in elevation, topping out at Libby Flats at 10,600 feet where there is a spectacular view of the surrounding landscape and an observation area. You will pass through some beautiful forests and experience many different alpine ecosystems with many places to stop and hike or fish or just enjoy the majesty of this place. A stop at Laka Marie is not only advised but almost a necessity. You will have a breathtaking view of Medicine Bow Peak, a sheer cliff of granite rising above Lake Marie to an elevation over 12,000 feet. This is an excellent picture spot with hiking trails that show even more of the spectacular views. After passing through Centennial, Wyoming which is an old, quaint former mining and timber town, you will travers the grasslands which are beautiful in their own rite. At Laramie, you will turn and head toward Woods Landing and then dipping down into Colorado after rising back into the forested, mountainous terrain. This highway has plenty of twisties to keep your intererst when you are not marveling at the scenery and perhaps seeing some of the abundant wildlife (deer, antelope, elk, coyotes, rabbits). Near Walden, you enter what is called the North Park of Colorado, a high mountain valley where the North Platte flows from its beginnings in the Colorado Rockies. High mountains rise above you in every direction as you pass through this are and back to Saratoga via the old copper mining town of Encampment, home of the Encampment Museum
Drive Enjoyment
Almost every section of this highway has been redone in the past 10 years or so, making it an excellent highway to travel upon. It is still pretty narrow but much better than before the construction. There are no passing lanes but one wants to take their time and stop often so you are able to soak up all that this ride has in store for you. The speed limits is reduced around the summit because of many twisties with several turns with 15 to 20 mph limits. Be sure to adhere to these limits so you stay on the roadway and pay special attention when in these areas. As was stated before there is the possibility of wildlife on or crossing the road so always stay attentive to that possibillity. The Moose population has raided dramatically in the past 10 years.
Tourism Opportunities
There are many opportunities to stop and plenty of things to do but not many are organized. Saratoga is a small town but has motels, convenience stores, reataurants and grocery stores. Along the way are several places where you can purchase gas and snacks even a few limited grocery items and there are also several places to rent a room or a cabin if you would like to spend the night in these mountains to enjoy the clean, fresh air and the silence of the evenings. There are abundant hiking trails with many lakes and creeks which can be fished for mountain trout. If you enjoy taking pictures, this is the mecca of such endeavors. Medicine Bow Peak is very famous for is scenic splendor where almost anyone can take a memorable photo to cherish for years to come. Laramie is one of the larger cities in Wyoming and the home of the University of Wyoming and the highest football stadium in America at approximately 7200 feet. Lots of restaurants and motels and other amenities available here. Woods Landing and Encampment both have opportunities for fuel, lodging and a place to eat.
Motorcycle Road Additional info
Since most of the riding on this loop is above 8000 feet in elevation, it is advised that you have a coat or undergarment which you can wear since it can get pretty cool even on the warmest days of summer at the higher elevations. It's better to have a light jacket and not need it than to need it and not have it. Even a light rain storm can drop the temperatures into the 50's and 60's so be prepared and be sure to bring a camera along.
Top Images
Share Your Comments ( 6 )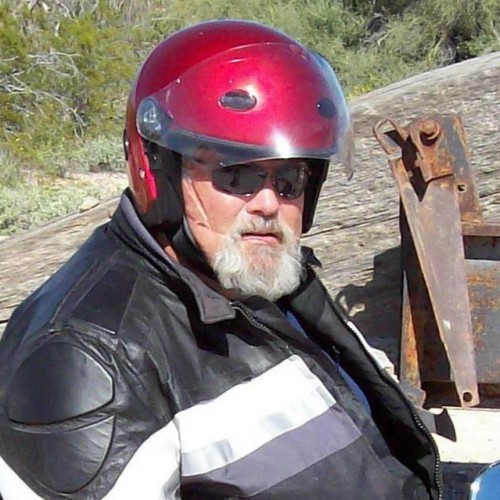 GJRonK
July 19, 2013
2353 McR Points
Motorcycle Type :
Cruiser
I'm always surprised how much cooler it gets at even the lower elevations of the mountain range, even in summer. It makes riding that much more pleasant. The traffic is usually minimal anytime.
Was this road review helpful?
3 riders
found this road review useful Guest
April 17, 2014
0 McR Points
A fantastic and very scenic ride, especially in the autumn with the leaves changing colors. Make sure you plan gas stops.
Was this road review helpful?
3 riders
found this road review useful jaydub
June 6, 2018
2 McR Points
Motorcycle Type :
Sport - Touring
I rode this route on June 6th, 2018. The route was beautiful and there was very little traffic. A very nice day ride from where I live.

The only place I would caution someone riding in the summer of 2018 is WY put new tar snakes on WY230 from the state line near Wycolo and going north in the curves the tar snakes were very slippery. It seems they are a bit thick and gooey. Several times my bike partially slid out, sometimes the front slid and sometimes the back slid. I didn't dump it but I thought I might a few times. Take it slow in the curves in this part of WY230 this summer.
Was this road review helpful?
2 riders
found this road review useful