Motorcycle Route Author
By Guest (0 McR Points)
on Feb 28, 2002
Written Directions
NOTE: The map shown above is not entirely accurate because of a limitation with the Google Maps software that is used by the website. It is close however, AND, there are many web sites that document the Blue Ridge Parkway's exact directions including the interactive online map here - https://www.blueridgeparkway.org/parkway-map/. To start on the north or upper half, go Staunton VA on interstate 81 and then head east on interstate 64 towards Waynesboro or Afton VA. Look for and follow the Blue Ridge Parkway signs. To start in the middle you should go to Wytheville VA on I-81 and then get on I-77 heading southeast toward the town of Fancy Gap VA (its exit #8 off of I-77). Look for the Blue Ridge parkway signs. Or to start at the lower/southern end (and then heading north) go to the town of Cherokee (just southeast of the Great Smoky Mountain National Park) or you can get on the Blue Ridge Parkway in Asheville NC as well.
Scenery
The upper half (the longer of the two halves) of this road runs from Afton VA, (near Waynesboro and Staunton, VA) south till it intersects I-77. This part of the road ambles through the Virginia country side with several sites to stop such as an old mill pond with a working millwheel and some Civil War battle sites.

The lower half runs from I-77 (near a VA town called Fancy Gap) to Cherokee NC. This part of the road is mostly in the great Smokey Mountains of North Carolina. There are numerous overlooks to view the beautiful Smokey Mts. as well as several outstanding places to see such as blowing rock and an old plantation house turned into a craft house. The part below Ashville NC is perhaps the most awesome Mt views anywhere in the eastern part of the country and terminates at the Cherokee Indian reservation where a museum and an outdoor drama are well worth seeing. The federal government hosts a very nice informational website covering the Blue Ridge Parkway.
Drive Enjoyment
One of the best parts of this road is the limited access. The only trucks ever encountered are the few service truck that service the two service station/restaurant areas along the parkway. Another plus is the 45 mph limit that allows you to see the surrounding scenery with out so much risk of having an accident. The road itself is very well maintained and the many curves are gentle.
Tourism Opportunities
There is one service station/restaurant area on each half of the parkway. The upper one also has a Mt motel that is very reasonably priced but doesn't offer TV. There are several pull off areas where numerous sites can be viewed. There are no signs along the parkway so it is a good idea to try to have a map so that you can tell where the small towns are along the way and where food and lodging are available.
Top Images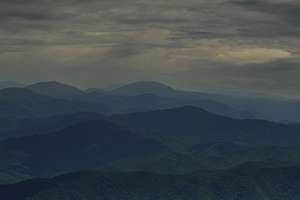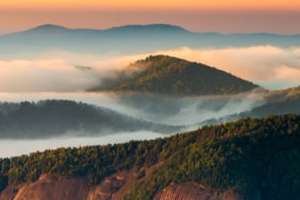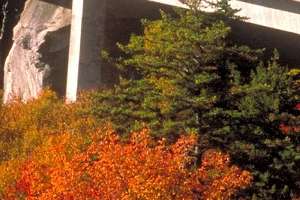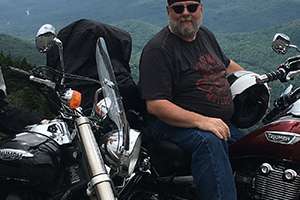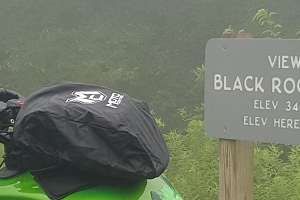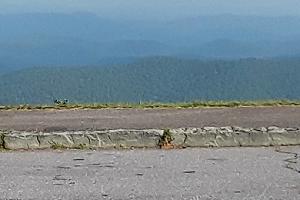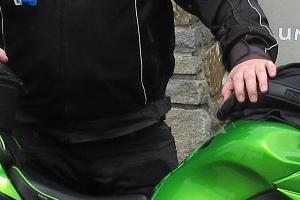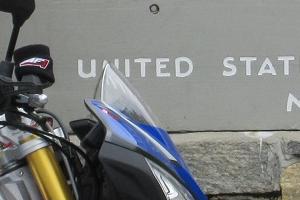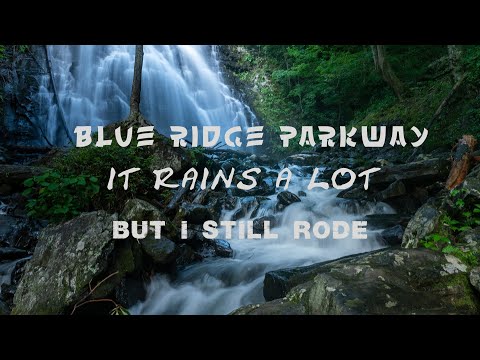 Share Your Comments ( 100 ) Guest
October 8, 2010
0 McR Points
Motorcycle Type :
Sport - Touring
My favorite ride. From the north, do it my way: from Pittsburgh (or from wherever you begin) to Maggie Valley via slab, just get it done - day two starts the fun. Tons of cheap no frills rooms in Maggie. I do it this way to insure that I get to ride the BRP south of Asheville. This portion is NOT to be missed. Seriously. I mean it, it's my reason for the trip! Day two: up early, big breakfast in Maggie and now we begin! Up the mountain to the BRP, head south to Cherokee, turn her around at southern terminus and... point her north. You now have 570 miles of unimpeded motorcycle bliss, including Skyline Drive, ahead of your front tyre. Plenty of places to camp along the way, (my preference) or if your old bones need a mattress, lotsa towns off the mountain en-route. Take a map, figure it out. There are no bad choices here. Isn't this why you ride? I allow two long days to complete the BRP including some photos, a little hiking, a coffee stop at Pisgah Inn, and chile at Mount Mitchell. I camp along the road and do my best to not leave the mountains. Allow three if you want to really savor the trip. From Front Royal (top of Skyline) I can get home without touching the interstate via Va50, Md42, Pa51 etc. Consult that map. One day covers my route from Waynesboro (bottom of Skyline) to Pittsburgh. Trust me on this, I've done it spring and fall for years. If you want to add the Dragon, figure a day for Maggie-Dragon-Maggie. Maps don't look like it, but you need a full day. Check out rt28 to Fontana dam while you're in the neighborhood. If you have the time, explore western NC - great roads, great people, great views, great food. Consult that map, pick some squiggly lines, again there are no bad choices. Wheels Thru Time Motorcycle Museum in Maggie is worth a look too. Another thing to consider - if you have complications or uncertainties at home, at no time during this ride are you more than one day's (hard) ride from Pittsburgh via interstate. I know, I know... not all you guys are from the 'burgh, but this should be illustrative for all east coast folks! I realize that this was supposed to be about the southern BRP, but there is too much along the way that you don't want to miss. Burn a couple extra sick days, you won't regret it. (The only things that I regret are the things that I did NOT do, rides that I didn't take, philosophically ... burn the days... And look for the red Triumph SprintST. I think they only built one, and we'll be on the Parkway!
Was this road review helpful?
22 riders
found this road review useful Guest
March 13, 2011
0 McR Points
Motorcycle Type :
Sport - Touring
The BRP is The Best Ride you can do on the east coast ! Bar none. I've been riding this great road annually , or more, for almost 30 years. Cannot be beat for road quality, scenery,or any other way you can judge it. Many times I have ridden for a hundred miles at a " spirited pace " and never seen a car! Where else can you do that on the east coast?Always able to find lodging and good places to eat without a problem. The Park Rangers have been less tolerant of bikes the last year or two, but if you use some common sense and ride carefully thru the congested areas you shouldn't have any trouble. Stay focused on the road if you are there for THE RIDE. Stop and take pics if you want to enjoy the view. There is little room for error, but it's worth it EVERY time ! The southern end is the best in my opinion and there are a ton of great roads once you get to the Smokey's. Try to allow some time to explore the southern end if you can, It's Exceptional too. Once you ride the BRP you will wish you didn't wait so long to ride it! Keep your knees in the breeze.
Was this road review helpful?
12 riders
found this road review useful Guest
December 7, 2010
0 McR Points
Motorcycle Type :
Touring
Because I live near the Blue Ridge Parkway several times a year I "head up" to one of my favorite roads to ride. Four out of the last six years I served in Iraq. Each time I returned on leave I always climbed on my Fatboy or Softail Deluxe and found myself easing along the Blue Ridge. Last ride was from Waynesboro to Mabry Mills and enjoyed it like the first time. Kind of a habit of mine when on leave to make at least one trip on the HD to settle me down and remind me of how free we are in America. Riding on th Blue Ridge Parkway does just that! I've met a number of veterans riding those mountains and many others from around the world. Always fun to ride with a few other bikes but don't know if I'd want to ride with a large group as that sort of impedes viewing due to constanly adjusting to the ebb and flow of the group. But I'd gladly take the large group over no ride at all. The Blue Ridge Parkway is just one more piece of America takes me back to being a boy of 16 again whern I discovered motorcycles. 45 years of riding and I appreciate and enjoy it more than ever...Pops
Was this road review helpful?
9 riders
found this road review useful