Motorcycle Route Author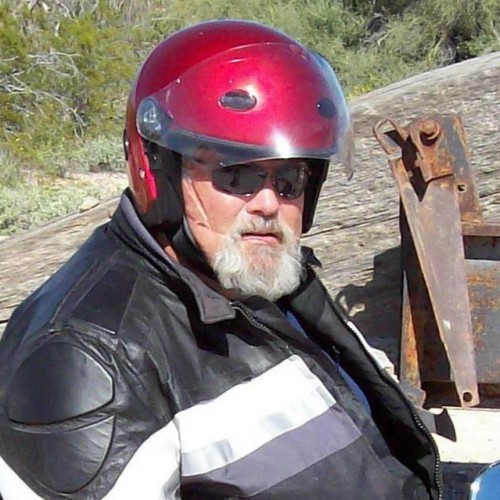 By GJRonK (2345 McR Points)
on Apr 18, 2013
Written Directions
Start at the truck stop at I-10 (exit 103) and 339 Avenue. Head north over the freeway 2 miles to stop sign. Left 2 miles to 355 Avenue, turn right (north). About 19 miles (mm28) is a 4 way stop. Turn right (northeast) on Wickenburg Road (also called Vulture Mine Road). End is the stoplight at Hwy. 60, west side of Wickenburg.
Scenery
The first half of the trip is open desert with views of nearby, low mountains. They always look great late in the day when the sun has mellowed them out. There are typical plants in the area, such as creosote, acacia and occasional ocotillo. On my last trip, I saw two coyotes crossing the road and buzzards flying overhead. As you proceed further north, the vegetation becomes more lush (which is a relative term as this is desert!). At mm 14 (on the Vulture Mine Road), is the old mining town display of buildings. It's interesting to stop at although while open daily in the winter, is only open half a day on Saturday from April on through the summer. (Pictures of this will follow next winter.) From mm14 for 7 miles to the top of the low pass, is the most beautiful part of the trip. The cacti are plentiful with many giant saguaro and teddy bear cholla. There are many gullies and low hills all along the road giving reason for the many curves as you do an easy climb up to the pass. I often drive back and forth just on this stretch. Beyond the pass and into town is past some upscale homes and a golf course. Traffic along here gets more plentiful. If time, the large western museum in Wickenburg should not be missed.
Drive Enjoyment
While not many turns for the first part of the trip, other than easy open desert areas, the last part makes up for it with some 30 mph turns on good pavement along the most scenic part. You can drag pegs on several turns if you are lulled into coming in hot.
Tourism Opportunities
While the truck stop has only food and gas, the city of Wickenburg has full services.
Share Your Comments ( 12 ) Rick M
May 20, 2015
0 McR Points
Motorcycle Type :
Cruiser
Excellent ride either way up the 60 and around vulture mine or the 10 around to the vulture mine route into Wickenburg the back way. Excellent food and service at anitas. Too many flys in the horseshoe and it didnt look like the cook there has changed pants in a couple years.
Was this road review helpful?
2 riders
found this road review useful Awesimon
December 4, 2016
0 McR Points
Motorcycle Type :
Cruiser
Sunday afternoon stroll through the desert wilderness, post 1pm. Approached from the south, off I-10 (relieved to get off to be honest; pavement quality after the 75mph speed change is awful.)

I enjoyed seeing the west side of White Tanks for once (I live in El Mirage), and also enjoyed the lack of traffic. The road was good quality, although the cattle grids (6) only served to slow the progress through fairly stock desert scenery. You can see Vilture Peak a good decent out, and it serves as a good marker throughout. The ride actually takes a turn for the more interesting when you switch from Aguila to Vulture Mine Road. More twists and turns, and good close-ups of Vulture Peak. Slowed down for the old mine, and for the twists as you pass Culture Peak, finally coming out past the golf course with a beautif view of Wuckenburg and Yarnell Hill (?). Stopped in at Screamers prior to taking the 60 home. Good fun; although not quite blood pumping, adrenaline thumping excitement.
Was this road review helpful?
1 riders
found this road review useful stormchase
April 23, 2016
2 McR Points
Motorcycle Type :
Cruiser
I just rode this today. Went to Wickenburg from peoria for some breakfest and something to do. Decided to look this one up and jumped on it for the great rating. Leaving Wickenburg it was nice from the get go. Good quality road surface all the way and never really got bored riding. The cattle guards (about 4 of them) will leave you an inch shorter after the ride. Slowing doesn't help much and as your looking around they come up fast.there was Always and turn or wash to think about. Little to no traffic saturday morning. I only saw about 8 cars and 2 groups of bikes. The senery is nice but not the best of what az has to offer. Some nice looking hills, cactus, and mountains off in the distance made for a lot of looking around. I went in May and cactus were in bloom and I saw a few hawks which was nice.

Cons:
*Lots of gravel on the turns on the north end by Wickenburg. Not really a danger but enough to be alert about.
*Nothing spectacular for scenery
*cattle guards are nasty

Pros:
*great road
*decent views
*no traffic on the Saturday I went
Was this road review helpful?
1 riders
found this road review useful