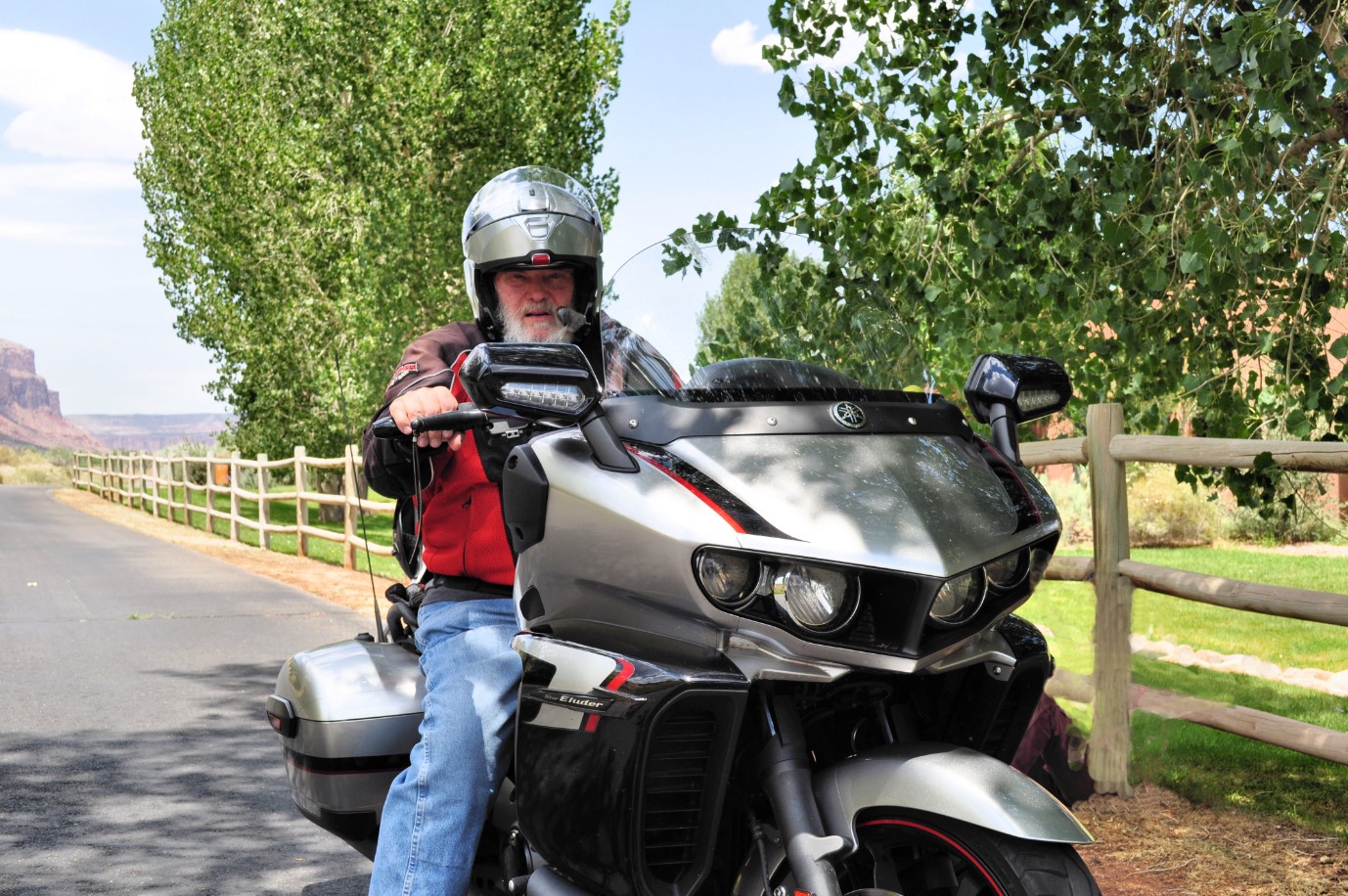 GJRonK's Motorcycle Riding History:

"Some call me Ron, some don't. My grandmother called me Ronald. But that doesn't matter. I've had a life of variety: I've flown an airplane, hiked down and up the Grand Canyon, guarded atomic bombs, been a Cowboy Action Shooter, propelled submarines, skied in Aspen with world champions, and could even disassemble/assemble an M-1 rifle faster than anyone else in the Marine Corps (33 seconds, to be exact).
But in one's olden life, they slow down. As I have. A lot. Biking is a lot slower and easier than water skiing in Subic Bay in the Philippines. So here I am. Just using my retirement to ride around the country visiting all the sights one can see from the seat of a bike. Haven't been to every state as some have such great routes that I hit them more than once. Sometimes with goals, in mind, like last summer I decided to visit Bill's choice of the 5 twistiest roads in the USA in one summer. Did it.
And we all have our "things." For some, it's seeing how fast they can get somewhere that in fact won't change any if they took an extra day. But, hey, if that's your thing, great. Some have "iron butts" and go four thousand miles in two days, or so. Some like to see how much they can lean in a corner.
I like to smell the winds blowing the fragrance of newly mown alfalfa in a field in Idaho, or mustiness of a dark, quiet forest in Washington, or the sweetness of big sage in the deserts of Arizona. I love seeing the colorful layers of sedimentary rock with Indian names in the canyons of Utah, watching the spray of salt water waves smashing giant rocks along the coast of Oregon, or the careful handling of a giant ferry boat docking at Port Townsend after crossing Puget Sound. Then there's the beauty of the Sequoiadendron giganteum, the tree in Sequoia National Park so big its first branch is 100' off the ground and 10' in diameter. Or driving a full mile on a bridge to cross the Mississippi River. There's the power of Niagara Falls relentlessly cutting away at its base rock for ages. There's the fairy like pinnacles of Bryce Canyon daring you to not let your jaw drop at the striking colors blending in with delicate needles. These things are my game. These are the memories I have in my mind (which is leaving fast) or in photos I love to take. So that's my thing. I like to travel to the best view points and capture them with my camera. My challenge is to take as many as possible from the seat of my bike so others following my way can capture the same memory as they pass by. Каждый посетитель казино Pin Up Россия, который планирует загружать слоты платно и выводить деньги, должен верифицировать свой профиль. Это обязательный процесс, посредством которого гемблер подтверждает совершеннолетний возраст. Администрация онлайн Пин Ап казино в России имеет право удалить кабинет клиента, если он отказался пройти эту процедуру. Все финансовые транзакции приостанавливаются, пока игрок не пройдет идентификацию. Для этого следует предоставить фотографию или скан паспорта. Сам процесс проверки займет один день.
I first rode a bike back in my mid-twenties for a short time, a BSA 650. No more for 43 years until I was 65. Then I got into it quite heavily, first with a cruiser (a 2000 Yamaha Road Star 1600) and lately a 2018 Yamaha Eluder 1900 touring bagger. For the last 14 years, I've been riding around 20,000 miles per year or more (although this year with the virus thing, it will be less).
Mystery lovers call him:
GJRonK"
GJRonK's Favorite Motorcycle Rides in Colorado:
"No ride has everything even in Colorado's variety of surprises. So I've broken it down to my favorite scenic, colorful, and fun rides:
As to scenic, it's hard to beat the San Juan Mountain Skyway. This 225 mile loop travels along a high elevation route with even higher peaks, often with snowcapped barren slopes rising on one side while deep canyon water darts around trees and boulders in the creek bottoms below. Along your path, whooshing sounds come through bent trees, leaning against the constant wind which often causes a changing lean angle on your bike. But no matter. You will be constantly looking at the views which change with each curve in the road so there's hardly a need to turn your head. You'll see an eagle's view of old mines and old towns often now transformed into a gathering of city folk wanting some "character". But pause at each interesting site and try to take in as much as you can. At the old towns, stop, then try to imagine how the wood sided buildings looked when grubby miners walked by and mules were tied up in front. Let some of that feel engulf you. Close your eyes.
As to colorful, well, it even says "Colorful Colorado" on the license plates. No route exemplifies that better than the Unaweep Tabeguache Scenic Road - CO 141. What makes this route so unique is the variety of the four sections. From the south at Placerville, the road travels along a steep walled canyon cut by the San Miguel River. The curves are fun to make while riding alongside a highly vegetated riparian zone below. The San Miguel runs all year, so the vegetation is very mature. Then you climb up a steep grade to an open plateau of fertile ranch land until reaching Naturita. From there, while traveling north, you'll be going through very steep, colorful walls with multi-hues of sedimentary rock which was made from layers of sand, then compressed into rock. It's like a giant tapestry in soft tans, reds and grays. (Imagine taking a slice out of the Grand Canyon.) You'll travel along the Deloris River until reaching Gateway. The turn east from there goes first up a small pretty canyon, then opens up into a magnificent valley. A valley cut through by glaciers. (It's similar to the area around El Capitan in Yosemite National Park.) Along the sides are gray igneous rock, formed by molten rock deep underground. I love to see the intrusions, or veins, of metamorphic rock formed by hot gasses forcing their way through cracks in the granite. From there it's a short way to the end at Whitewater junction. The small canyon before that is the home to some Rocky Mountain Sheep. I see them a dozen times each summer. I wave.
Now what's fun? Could be anything you like. One way for me is a route with lots of turns that give me the challenge of trying to be really smooth on every turn. There are so many in the country. Just one is the De Beque Cutoff, 45.5 Road. It's only 11 miles long, but has several dozen fairly sharp curves. If you check on the MR website, you can see the Indian petroglyphs I took pictures of with a long lens, which are hard to see on site. There are a few interesting objects along the way, but I like the road for the challenge and "tune up" I get in my shifting and turning."

GJRonK's Advice To Those Riders Looking to Tour Colorado:
"No real special tips on riding in Colorado. All your normal safety gear and precautions are the same everywhere. Note that we have basically two areas—the plains on the eastern half of the state and the mountain areas on the other half. The biggest danger in the east is when tornadoes come by, not good. No tornadoes in the mountains, which is where most of our bike roads are. But the roadways are often in areas where the road has heaving under the pavement and slabs or humps can rise up where you just don't see them. That can be a disruption in the middle of a curve."
---
Note: Recently, MotorcycleRoads.com (McR) announced the start of a new program for assigning prolific motorcycle riders as "Road Rangers" for various regions of the USA and Canada - the MotorcycleRoads.com Road Ranger Program. This program is a great way for prolific motorcycle riders in various regions to share their knowledge and expertise of the best motorcycle roads and rides within that region.