Motorcycle Route Author
Rider Reviews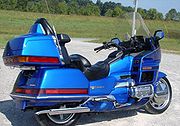 good mix of very windy and country easy roads.…
Written Directions
This route is located in West Kitsap & East Mason Counties, on the westernmost part of the Kitsap Peninsula. To get there, you'll want to start in Belfair, WA. Belfair is a great place to get fuel and get prepared. Head west on NE North Shore Road. After about 3.5 miles, take the slight right onto NE Belfair-Tahuya Rd. The Kitsap Lap starts about 1.5 miles along this road at the intersection with NE Elfendahl Pass Road.
Scenery
This road is almost exclusively along rural two-lane blacktop sided by state forest. There are a couple of spots near Dewatto where you ride along the water and get some decent views of the Hood Canal and the Olympic Peninsula, but the vast majority of the trip is just a country road cruise with forest scenery.
Drive Enjoyment
The road is good quality and has a mix from fast straights to curvy switchbacks along with a couple of small elevation changes. It would be great for a more enthusiastic, sporty drive but it would also be very good for a cruise.
Tourism Opportunities
Again, the rural nature of the ride makes shops and gas stations almost non-existent. Along the route there are no stores or stops for food. However, there are a couple of nearby shops in Seabeck or in Belfair if you'd like to get some food or fuel.
Motorcycle Road Additional info
I've done this route several times. In summer there are quite a few enthusiasts out on bikes, motorcycles, and cars. So for safety, I wouldn't recommend ripping too hard down these roads.