Motorcycle Route Author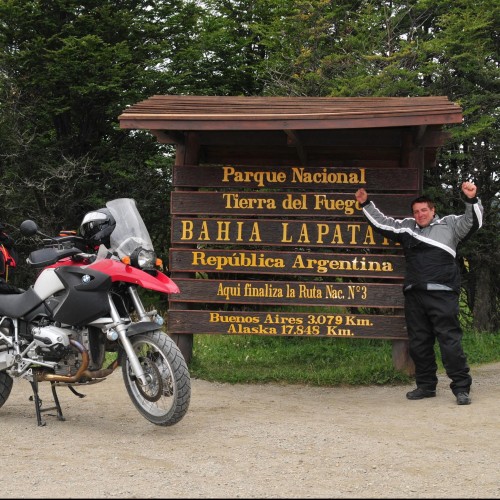 Written Directions
Start in Chaiten and head south on Route 7 all the way down to Villa O'higgins, Chile. Note: the map above shows Route 7 stopping short of Villa O'higgins. However where it stops is a body of water at which point you can take a ferry across the lake and the road continues to Villa O'Higgins where it ends The Carretera Austral is a road that takes you through the back bone of the Andes mountains in southern Chile. There is very little of this road that is paved. It is very remote and not for the faint of heart! A motorcycle that is capable of off road riding is a must here. The route for me started in Chaiten and this road continues south to the town of Villa O'higgins, where it ends, approximately 550 miles south.
Scenery
The scenery in this part of the Andes Mountains will take your breath away. The mountains tower over you as you ride through valleys and around pristine lakes and glacial waterfalls and glaciers.
Drive Enjoyment
Much of this route is rough gravel. There are few areas that are paved and much of the riding is in very remote locations. Make sure you go well prepared.
Tourism Opportunities
Roadside amenities in this part of the world are few and far between. You must carry extra gasoline just in case. At least 10 liters. There are small towns along the route where you can find gasoline, and a few small cities and you can always find places to stay for the night, but you must be self sufficient on this trip. You won't find "Triple A" down here.
Motorcycle Road Additional info
I started my ride in Santiago and went to Chaiten via a ferry from Quellon on the island of Chiloe. I then rode the Carretera Austral and continued to Tierra Del Fuego and to Ushuaia, Argentina. How you plan your route is up to you, but plan it well. If you would like to read my blog of this trip, you can do so here: https://theshortwaydown.blogspot.com/ Make sure you scroll down to the beginning.