Motorcycle Route Author
By Guest (0 McR Points)
on Nov 30, 2004
Written Directions
The route starts in the town of Moab, UT. From Moab, take SR 128 north east as it follows and crosses the Colorado River and takes you up to I-70 where the route ends. From I-70 you can head east into Colorado (Grand Junction and on to Denver) or west towards I-15.
Scenery
Quote from the submitter: "Took this trip July 2003. Ten days with temp of 85 to 105 degrees. This is a great road to relax on. Stop at pull outs and take a refreshing swim in the Colorado River to cool off. Too many roads so little time, but I'll remember this one forever." 42 Miles of canyon road that follows the upper Colorado River. Road twists as much as the famous river. This road is near the world famous Arches National Park. In August of 2013, MotorcycleRoads.com excellent contributor "GJRonK" added the following: "Unbelievable extremes of colors form the tapestry of rock along this route. The first 15 miles are narrow canyon walls, some 1,500' high, that surround you and guide you along the narrow two lane road sharing the bottomland with the river. The views of the river become varied as parts of the roadway is on shelf roads. Occasional small canyons squeeze in from the sides, now and then, with some beckoning hiking trails up through the rock cuts in the sides. You will see various boaters using the river for water adventure. Pullouts for viewing are every mile, or so, but are usually graveled. There are also numerous campgrounds with picnic tables and pit toilets along the way. The river is often dark tan from runoff high in the Rockies. During high water, it can come right up to the roadway. At mm14 is the Red Cliffs Guest Ranch, which is first class. You can stop for a free visit to the movie memorabilia museum. At this point, the canyon widens out to show distant ridges that can be dark red or purple. Here, the road is some distance from the river for a while. You will pass country used countless times in movies. (Note: The last one I personally saw here was filming for Geronimo: An American Legend in 1992.) As the road runs alongside the river again, the walls remain the same type--various layers of sedimentary rock, although all the rock this side of Moab is younger than that to the west of the Moab Fault line. You'll approach the old settlement of Dewey Bridge, with only one building left. The historic bridge has burned down, but you can stop on the south side and see the remnants and read some about it. As you proceed north, you will pass several pullouts with some Indian rock etching called petroglyphs. Look high up onto some darker, smooth surface rock on the left side of the road. If you choose to pass alongside Cisco, you will see a town that civilization doesn't seem to need anymore. Founded in 1883, it was a rail watering stop, then a large wool shipping station, then oil was the big driver, then mining. Along around 1970, as the freeway even bypassed the town, there was little to keep residents around. Now there are maybe 5 residents left. "
Drive Enjoyment
Road is at the 4000 ft elevation with good two lane blacktop. Many twists but no severe switchbacks, a nice 42 mile ride at 30 to 50 MPH speeds. "GJRonK" also added the following: "The first 30 miles are fair quality, but narrow with no shoulders. Turns are usually wide, but a few third gear blind ones. There are many tar snakes along here. Once beyond Dewey Bridge, the road opens up into a good surface and high speed turns as you are in open desert. The last 8 miles used to be real bad, but is now repaired and bumpy but no holes."
Tourism Opportunities
There are several turn-outs along the river with restroom facilities, some camping and swimming. No gas or stores. When your down by Moab, UT, you may want to check out Arches National Park. "GJRonK" also added the following: "None other than pit toilets along the river. Moab has all services."
Motorcycle Road Additional info
- View the weather forecast for this area from Yahoo weather .
Share Your Comments ( 6 )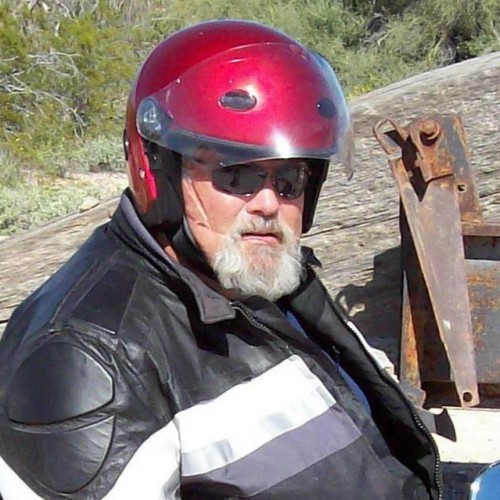 GJRonK
February 6, 2013
2268 McR Points
Motorcycle Type :
Cruiser
Even if you can't travel this route right after a big rainfall when there are fifty brief waterfalls along the route, it's still a ride you won't forget. The red and tan cliffs along the first 30 miles of this route are sheer and spectacular and you'll wish you could just be a passenger. You can see the Colorado River all along the way and may see boaters floating downriver.

At mile marker 14, a stop at Red Cliffs Ranch (a guest ranch with horses)to visit the free movie memorabilia museum is fun.

At 30 miles, you will cross the Colorado River at Dewey Bridge. The original bridge remnants are still there. It was built in 1916, but burned during a brush fire in 2008. I have crossed that bridge in a pickup with a camper where I had just several inches of bridge rail beyond my mirrors.

From there, you will proceed away from the river along some open desert country.

The old (as some would call it "ghost") town remnants of Cisco are several miles east of the only stop sign you will come to.
Was this road review helpful?
6 riders
found this road review useful Guest
July 14, 2009
0 McR Points
Motorcycle Type :
Touring
I've been on this road both ways many times in a truck and on several different motorcycles. it is a very nice way to go from I-70 to the Moab area and see some scenery too. It is a 2 lane road with little or no shoulder most of the way. The north end is open and allows faster speeds while the south end is in canyons and requires slower speeds. Great views of the Colorado river and rock spires. There are many turn-outs down by the river.
Was this road review helpful?
1 riders
found this road review useful GullGuy
January 11, 2018
2 McR Points
Motorcycle Type :
Touring
Spectacular views - early morning and early evening creates awesome effects on the ledges along the river . . .
Was this road review helpful?
1 riders
found this road review useful