Motorcycle Route Author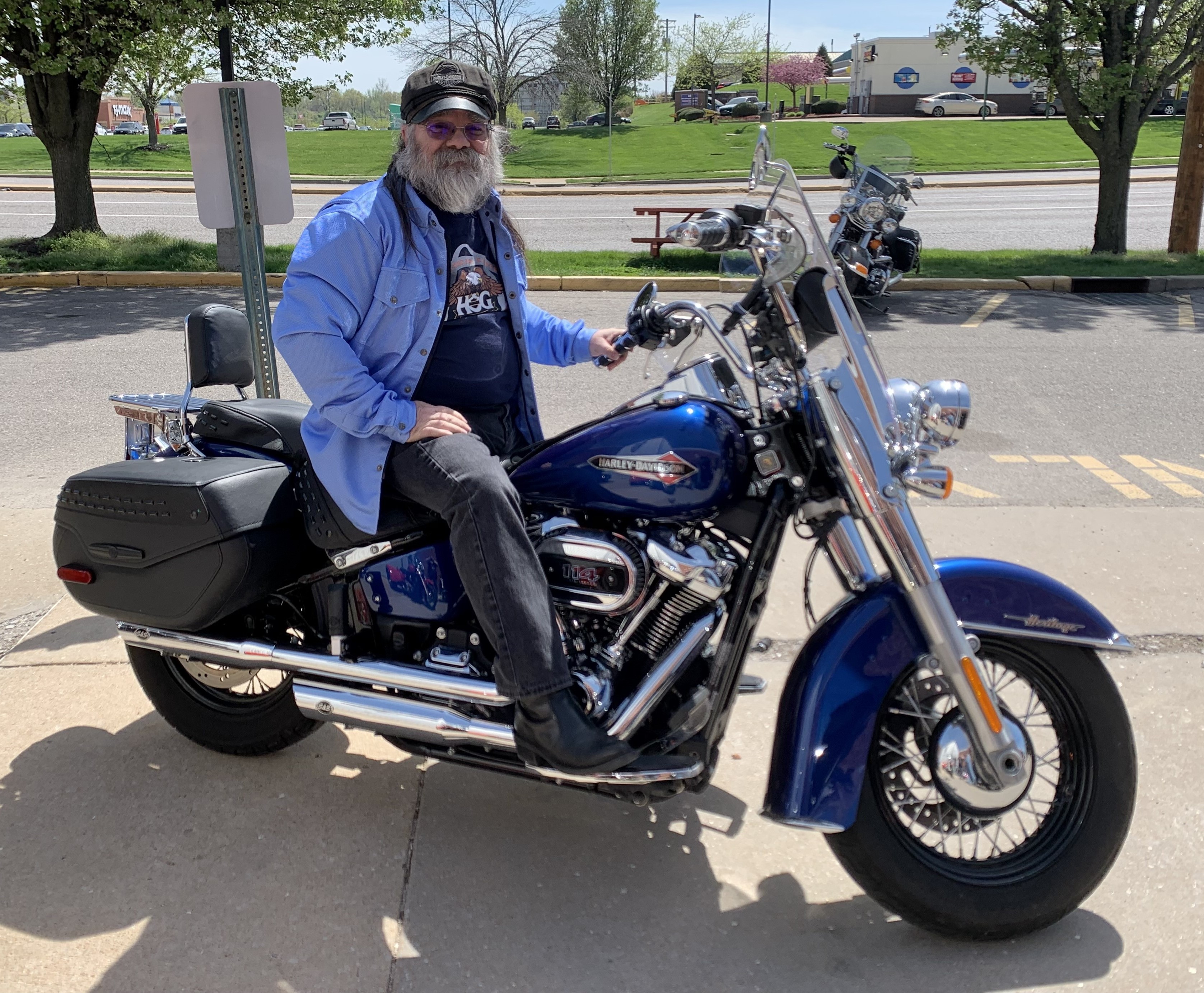 By mchance (726 McR Points)
on May 08, 2020
Rider Reviews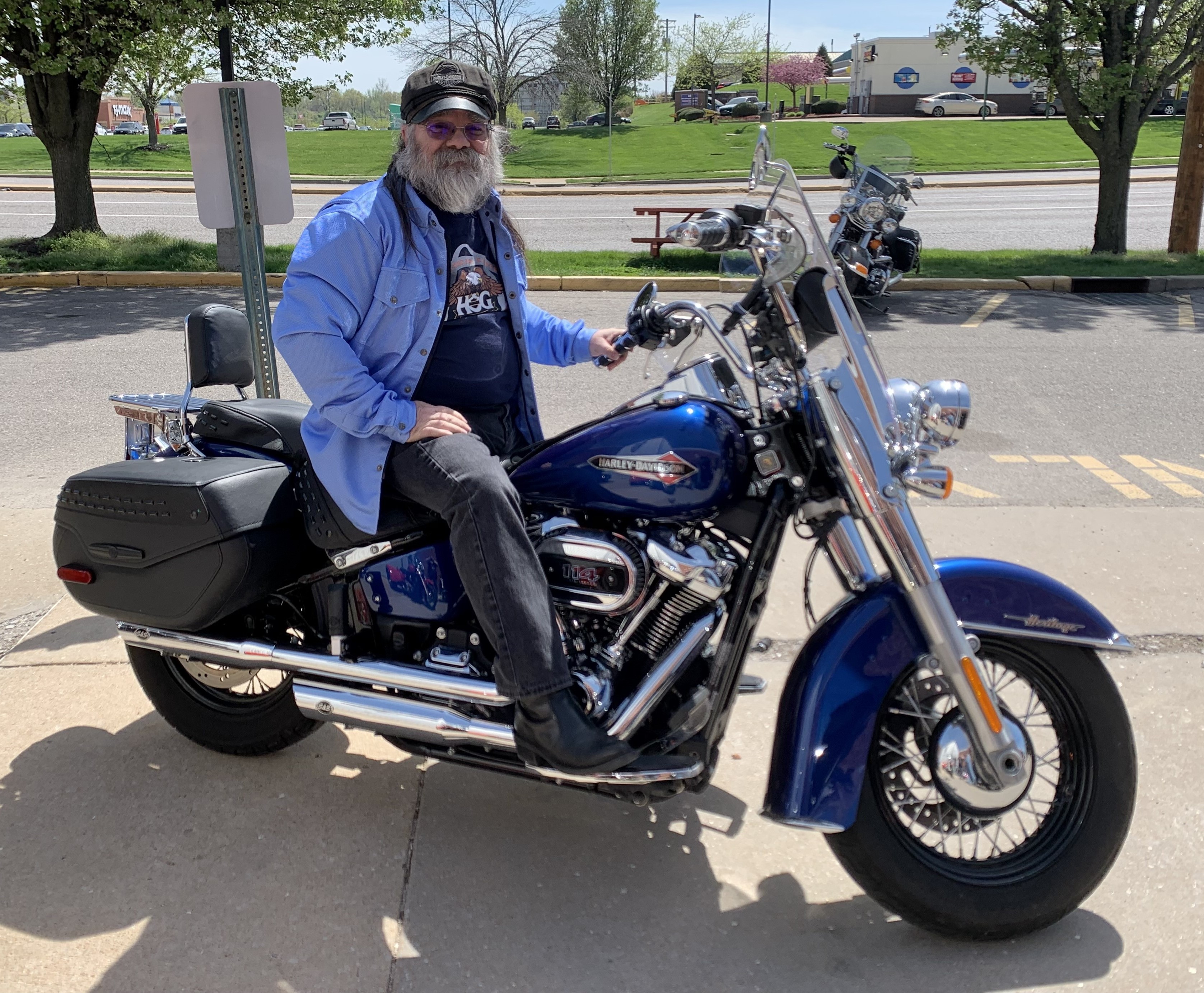 As the route creator, of course I've ridden it.…
Written Directions
THIS ROUTE IS VERY INTRICATE and our normal mapping software can not handle all the way-points so below I provide the link to a Harley site that will bring up the map for you to see: https://maps.harley-davidson.com/share/rides/lYDUyzYfu Written directions are as follows: Start at Doc's Harley-Davidson 930 S Kirkwood Rd, Kirkwood, MO, 63122-6046, USA Head south on S Kirkwood Rd (US-61/US-67) Ride Segment: 53 mi / 2 hr 20 min 0.7 mi / 2 min Take ramp toward MO-366 E 0.1 mi / 1 min Turn left onto Watson Rd (MO-366) 1.3 mi / 4 min Turn left onto S Sappington Rd 1 mi / 2 min Turn right onto Big Bend Blvd 1.7 mi / 4 min Keep right onto Big Bend Blvd 1.8 mi / 5 min Continue on S Big Bend Blvd 3.9 mi / 11 min Continue on N Big Bend Blvd 0.7 mi / 2 min Turn left onto Delmar Blvd 0.4 mi / 1 min Turn right onto Midland Blvd 1 mi / 2 min Continue on Midland Blvd 2.2 mi / 5 min Make a U-Turn at Gilrose Ave onto Midland Blvd 0.2 mi / 1 min Make a U-Turn at Delport Dr onto Midland Blvd 2.1 mi / 5 min Make a U-Turn at W Tennyson Ave onto Midland Blvd 0.1 mi / 1 min Make a U-Turn onto Midland Blvd 2.2 mi / 5 min Turn right and take ramp onto Lindbergh Blvd (US-67 N) 5.4 mi / 9 min Turn right onto James S McDonnell Blvd (MO-TT) 1.9 mi / 3 min Turn left onto Airport Rd 0 mi / 1 min Turn slightly right onto Airport Rd 1.8 mi / 4 min Continue on Settle Dr 0.3 mi / 1 min Continue on Airport Rd 0.2 mi / 1 min Turn right onto N Florissant Rd (MO-N) 0.3 mi / 1 min Continue on S Florissant Rd (MO-N) 0.5 mi / 1 min Turn left onto Paul Dr 0.5 mi / 1 min Turn right onto Ferguson Ave 1.1 mi / 4 min Turn right onto W Florissant Ave 0.7 mi / 1 min Turn left onto Lucas-Hunt Rd (MO-U) 1.8 mi / 3 min Turn left onto Halls Ferry Rd (MO-AC) 0.5 mi / 1 min Turn right onto Chambers Rd 1.7 mi / 4 min Continue on Chambers Rd 1.2 mi / 3 min Turn right onto Chambers Rd SE 0.2 mi / 1 min Turn right onto Riverview Dr (MO-H) 1.8 mi / 2 min Continue on Riverview Dr 0.3 mi / 1 min Turn right onto Bellefontaine Rd 0.2 mi / 1 min Turn left onto Jennings Station Rd 0.7 mi / 1 min Continue on Jennings Station Rd 3.5 mi / 9 min Continue on Kienlen Ave 1.6 mi / 6 min Continue on Skinker Pkwy 0.7 mi / 1 min Continue on N Skinker Blvd 1 mi / 3 min Turn left onto Forest Park Pkwy 2.1 mi / 3 min Turn right onto S Kingshighway Blvd 1 mi / 2 min Turn right onto Manchester Ave (MO-100) 2.8 mi / 7 min Turn left onto Bellevue Ave 0.1 mi / 1 min Turn right onto Southwest Ave 0 mi / 1 min Turn left 0 mi / 1 min Turn right 0 mi / 1 min Turn left 0 mi / 1 min Arrive at Schlafly Bottleworks St Louis, MO, 63143 Start at Schlafly Bottleworks St Louis, MO, 63143 Head toward Schlafly Plz Ride Segment: 45 mi / 2 hr 26 min 0 mi / 1 min Turn right onto Schlafly Plz 0 mi / 1 min Turn right onto Southwest Ave 0.1 mi / 1 min Turn left onto Bellevue Ave 0.1 mi / 1 min Turn right onto Manchester Blvd (MO-100) 0.3 mi / 1 min Turn left onto McCausland Ave 2 mi / 5 min Turn left onto Wydown Ave 0.2 mi / 1 min Continue on Wydown Blvd 1.7 mi / 7 min Turn right onto S Hanley Rd 0.5 mi / 1 min Turn left onto Forsyth Blvd 0.6 mi / 2 min Continue on N Forsyth Blvd 0.4 mi / 1 min Continue on Old Bonhomme Rd 0.8 mi / 3 min Turn left onto Old Bonhomme Rd 0.3 mi / 1 min Turn right onto N McKnight Rd 0.4 mi / 1 min Continue on Woodson Rd 1.9 mi / 6 min Turn left onto Lackland Rd 1.2 mi / 5 min Turn right onto Lackland Rd 0.7 mi / 3 min Turn left onto Ashby Rd 0.6 mi / 1 min Turn right onto Midwest Industrial Blvd 0.2 mi / 1 min Turn left onto N Warson Rd 0.2 mi / 1 min Turn left onto Baur Blvd 0 mi / 1 min Turn right onto Ashby Rd 0.2 mi / 1 min Continue on N Warson Rd 1.9 mi / 5 min Turn left onto Ladue Rd 1.6 mi / 3 min Turn right onto S Price Rd 0.8 mi / 3 min Turn right onto Clayton Rd 0.1 mi / 1 min Turn left 0 mi / 1 min Turn right 0 mi / 1 min Turn right toward Clayton Rd 0 mi / 1 min Turn left onto Clayton Rd 4.2 mi / 12 min Turn left onto N Ballas Rd 0 mi / 1 min Turn right 0 mi / 1 min Turn right toward N Ballas Rd 0 mi / 1 min Turn right onto N Ballas Rd 3.7 mi / 8 min Continue on W Adams Ave 2 mi / 5 min Continue on E Adams Ave 0.9 mi / 2 min Continue on W Lockwood Ave 0.7 mi / 1 min Turn left onto N Berry Rd 0.1 mi / 1 min Turn right onto W Lockwood Ave 1.1 mi / 2 min Turn left onto N Rock Hill Rd 1.1 mi / 4 min Turn left onto Manchester Rd (MO-100) 1.9 mi / 6 min Turn right onto N Woodlawn Ave 1.1 mi / 2 min Continue on Old Warson Rd 0.1 mi / 1 min Turn left onto S Warson Rd 0.7 mi / 1 min Turn right onto Litzsinger Rd 0.8 mi / 3 min Turn slightly left onto Litzsinger Rd 2 mi / 8 min Turn right onto S Brentwood Blvd 0.9 mi / 2 min Turn left onto Marshall Ave 1.3 mi / 5 min Continue on Key West Ave 0.1 mi / 1 min Continue on Shrewsbury Ave 0.6 mi / 2 min Turn left onto Lansdowne Ave 0.4 mi / 1 min Turn right onto River des Peres Blvd 2.4 mi / 5 min Turn left onto Gravois Ave (MO-30) 0.1 mi / 1 min Turn left onto Hampton Ave 0.4 mi / 1 min Turn left onto Jamieson Ave 0.6 mi / 1 min Turn right onto Highfield Rd 0 mi / 1 min Turn left onto E Jamieson Ave 0.1 mi / 1 min Continue on Jamieson Ave 0.9 mi / 2 min Turn right onto Chippewa St (MO-366) 0.1 mi / 1 min Arrive at Ted Drewes Frozen Custard (Ted Drew's Frozen Custard) 6726 Chippewa St, St Louis, MO, 63109 Your destination is on the right. Start at Ted Drewes Frozen Custard (Ted Drew's Frozen Custard) 6726 Chippewa St, St Louis, MO, 63109 Head northeast on Chippewa St (MO-366) Ride Segment: 35 mi / 1 hr 57 min 0.8 mi / 2 min Turn right onto Hampton Ave 2.1 mi / 6 min Turn right onto Gravois Ave (MO-30) 2.3 mi / 6 min Turn right onto S Rock Hill Rd 0.6 mi / 1 min Continue on S Rock Hill Rd 1.2 mi / 2 min Turn left onto Watson Rd (MO-366) 0.5 mi / 1 min Turn left onto Grant Rd 0.5 mi / 2 min Turn right onto Pardee Rd 0.4 mi / 1 min Continue on Grant Rd 0.9 mi / 3 min Turn right onto Gravois Rd (MO-30) 0.3 mi / 1 min Turn left onto Musick Ave 1.2 mi / 4 min Continue on Green Park Rd 0 mi / 1 min Continue on Green Park Rd 1.8 mi / 7 min Turn left onto Union Rd 0.4 mi / 1 min Turn right onto Greenpark Rd 0.8 mi / 3 min Turn right onto Reavis Barracks Rd 0.2 mi / 1 min Turn left onto Lemay Ferry Rd (MO-267) 2.1 mi / 5 min Continue on Alabama Ave (MO-267) 0.1 mi / 1 min Turn left onto Germania St 1.4 mi / 3 min Turn right onto Morgan Ford Rd 0.8 mi / 2 min Turn left onto Holly Hills Blvd 0.3 mi / 1 min Turn slightly right onto Christy Blvd 0.4 mi / 1 min Keep right onto Gravois Ave (MO-30) 2.1 mi / 6 min Turn left onto S Grand Blvd 1 mi / 3 min Turn left onto Magnolia Ave 0.9 mi / 2 min Turn left onto Center Cross Dr 0.1 mi / 1 min Take the 1st exit from roundabout onto Center Cross Dr 0.2 mi / 1 min Turn right onto Arsenal St 1.2 mi / 3 min Turn right onto Sublette Ave 0.2 mi / 1 min Turn right onto Southwest Ave 0.1 mi / 1 min Continue on Southwest Ave 0.1 mi / 1 min Turn left onto Macklind Ave 0.6 mi / 2 min Turn right onto Shaw Ave 0.6 mi / 2 min Continue on Shaw Blvd 0.3 mi / 1 min Turn left onto S Vandeventer Ave 1.7 mi / 5 min Continue on N Vandeventer Ave 0.6 mi / 2 min Turn right onto Enright Ave 0.4 mi / 2 min Turn right onto N Grand Blvd 0.5 mi / 1 min Continue on S Grand Blvd 1 mi / 2 min Turn left onto Park Ave 1.8 mi / 6 min Take the 2nd exit from roundabout onto Park Ave 0.1 mi / 1 min Turn left onto S Tucker Blvd 0.3 mi / 1 min Turn right onto Chouteau Ave (MO-100) 0.3 mi / 1 min Turn left onto S 7th St 0.2 mi / 1 min Continue on S 8th St 0.4 mi / 2 min Turn right onto Market St 0.3 mi / 1 min Turn left onto N 4th St 0.7 mi / 2 min Continue on N 3rd St 0.1 mi / 1 min Continue on N Broadway 0.1 mi / 1 min Arrive at Shady Jack Saloon 1432 N Broadway, St Louis, MO, 63102
Scenery
This is an urban/suburban ride, and includes everything from wooded stretches to skyscrapers.
Drive Enjoyment
This IS a "streets" ride. There will be a lot of starts and stops, with lots of both stop signs and signal lights. Pavement conditions vary a lot, both from segment to segment and from year to year, depending on when the various streets departments last repaved. Potholes, cracked concrete, street plates, and construction should be expected at multiple places along the route.
Tourism Opportunities
LOTS of opportunities. The route goes past or near many Saint Louis tourist attractions, restaurants, and museums. Of course, Ted Drewes is a Route 66 classic "must see", and Shady Jack's is a world famous biker bar.
Motorcycle Road Additional info
This route was originally done for the Kirkwood HOG chapter's 2018 "Streets of Saint Louis" ride, and was considered completely over-the-top. It's about 6 hours of actual riding time, in four hour and a half segments. As I joked with the chapter, both hands and both feet will get a workout with all the shifting and braking, and you'll discover if there are any loose parts on your bike before it's over. Route starts at Doc's Harley-Davidson in Kirkwood, MO, travels to the Schlafly's Bottleworks in Maplewood, MO (just off of the original Route 66), then to a snack stop at Ted Drewes' Frozen Custard on the "classic" Route 66 in southwest Saint Louis, before ending at Shady Jack's Saloon just north of downtown Saint Louis (within sight of the Gateway Arch). It includes some of the best riding streets in Saint Louis City and County, all within the I-270 loop.