South Carolina Motorcycle Place Information
#9559
Lodging (Motels, Hotels, Bed And Breakfast)
Yes
https://www.sunnsandresort.com
Place Details
If you or any other motorcycle riders/clubs are thinking of coming to Myrtle Beach, SC for any of the bike rallies that will be here in May - We have a deal for you! We are extending a discounted rate to you and your club members who would like to come and enjoy our oceanfront paradise, Sun N Sand Resort. Below are the dates, discount, and the promo code: May 10 - 31, 2018 15% Discount Promo Code: BIKER15 If above 7 rooms, call Group Sales, or we can book you individually at our direct line, (843) 839-9375! We have a parking garage that is free to all guests and we are oceanfront! If you would like to hear more or would like to book your room, please contact us at (843) 282-6523!
2701 S Ocean Blvd, Myrtle Beach, SC 29577, United States
For more information about this Sun N Sand Resort Motorcycle Place:
laurene@snsresort.com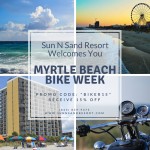 Photo & Video Gallery (0)
No Photos Or Videos Added Yet.