North Carolina Motorcycle Place Information
#9564
Lodging (Motels, Hotels, Bed And Breakfast)
Yes
https://www.countryinns.com/offers/12927163
Place Details
Ease off the Blue Ridge Parkway and stay with us at the Country Inn & Suites, Boone, NC. Fuel up for your day of adventure with our complimentary, hot breakfast, in-room coffee and free cookies. Unwind after your ride on our seasonal porch overlooking the mountains, or relax in the indoor heated pool and whirlpool. At the end of the day, stretch out on our pillow-top beds to catch a movie.Motorcycle riders that stay with us will receive a discounted rate!! We also offer ground floor rooms with views of your bike in our parking lot and a wash station to keep your chrome shining.
818 East King Street, Boone, NC, United States
For more information about this Country Inn & Suites Boone Motorcycle Place:
sales.hmvproperties@gmail.com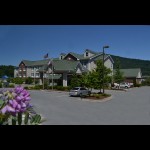 Photo & Video Gallery (0)
No Photos Or Videos Added Yet.