Florida Motorcycle Place Information
#9571
Pub Or Tavern Or Bar
Yes
https://www.americaniconbrewery.com/fort-lauderdale/
Place Details
American Icon Brewery is a bad ass brewpub! Think Harley Davidson meets brewery. Voted Top Brewpubs in the USA, the main brewery in Vero Beach is in a 100 year old historic building (the former Diesel Power Plant) that was converted into a best in class brewery and, oh yeah, the restaurant is equally amazing. The 2nd location in Flagler (FAT) Village in downtown Fort Lauderdale is equally amazing. Located in the arts and entertainment district, this place is a great destination place to ride to from almost anywhere. Of course, designated motorcycle parking is right where it should be . . . right in front! Come one, come all and you'll see why bikers love American Icon Brewery. You can call for more information at 954-500-ICON (4266).
911 Northeast 4th Avenue, Fort Lauderdale, FL, USA
For more information about this American Icon Brewery Kitchen & Taproom Motorcycle Place:
miker@americaniconbrewery.com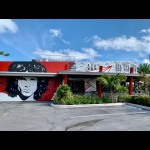 Photo & Video Gallery (0)
No Photos Or Videos Added Yet.