Florida Motorcycle Place Information
#9569
Restaurant
Yes
https://www.americaniconbrewery.com
Place Details
American Icon Brewery is a bad ass brewpub! Think Harley Davidson meets brewery. Voted Top Brewpubs in the USA, this 100 year old historic building (the former Diesel Power Plant) was converted into a best in class brewery and, oh yeah, the restaurant is equally amazing. Located in the beautiful downtown Vero Beach, FL area, this place is a great destination place to ride to from almost anywhere. Of course, designated motorcycle parking is right where it should be . . . right in front! Come one, come all and you'll see why bikers love American Icon Brewery. You can call for more information at 772-266-5507.
1133 19th Place, Vero Beach, FL, USA
For more information about this American Icon Brewery Motorcycle Place:
info@americaniconbrewery.com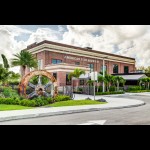 Photo & Video Gallery (0)
No Photos Or Videos Added Yet.