Arkansas Motorcycle Place Information
#9496
Lodging (Motels, Hotels, Bed And Breakfast)
Yes
https://www.basinpark.com
Place Details
Bike Friendly in the heart of Downtown Eureka Springs, the Basin Park Hotel offers BIKERS BEST RATES BEGINNING AT $89 while featuring accommodations with one or two beds. On the hotel's second floor, the Balcony Restaurant and Bar has Eureka Springs' BEST Burger and a its unique copper bar overlooks the activity of Basin Spring Park. Rooftop Billiards is on the top floor of the hotel and the perfect place to put the kickstand down for the night, have a few drinks and to shoot pool on the Olhausen tables and relax with friends. The Basin Park also features the Serenity spa for relaxation or an evening hot tub. Many suites feature private jacuzzis.
12 Spring St, Eureka Springs, AR 72632, United States
For more information about this 1905 Basin Park Hotel Motorcycle Place:
codyatbasin@gmail.com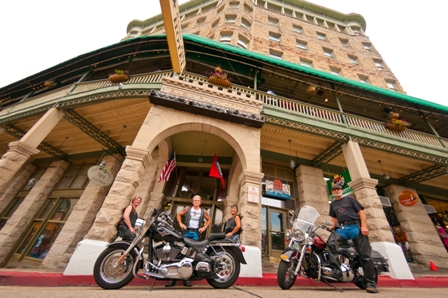 Photo & Video Gallery (0)
No Photos Or Videos Added Yet.