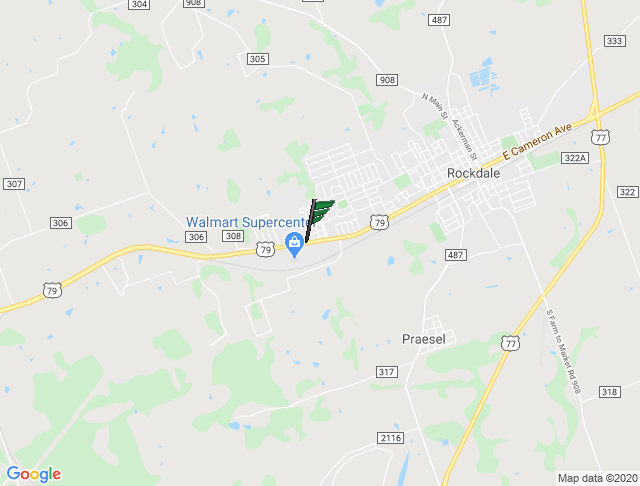 Click here for larger map
Texas Other Event Information
19Th Annual M.a.r.c. Ride
#59591 Other Event
2020-06-13 to 2020-06-13
415 W Hwy 79, Rockdale, TX 76567, USA
The 19TH Annual M.A.R.C. RIDE brought to you by The Bad To The Bone Riders of Rockdale will take place this year on Saturday June 13th, 2020 at The Ranch 415 W. Hwy 79 Rockdale Texas 76567. This annual ride benefits The M.A.R.C. (Milam Adult Resource Center) of Milam County Located here in Rockdale Texas. M.A.R.C. serves all Milam County Adult Residents with Physical and Learning Disabilities. The M.A.R.C. is a 501C3 Organization (Non-Profit Organization) that depends on this fundraiser to be a major resource to keep serving the consumers that it does. M.A.R.C. teaches these Consumers valuable Life skills that most people take for granted in day to day life. In the 18 year history of The M.A.R.C. RIDE it has donated 100% of the proceeds from these fundraisers/rides to the M.A.R.C. amounting to a little over $315,000.00 through the years. The Ride for 2019 will Start and Stop at The Ranch 415 W. Hwy 79 Rockdale Texas 76567. Ride Registration begins at 9:00 am with first Bike out at 11:00 am. The ride fee is $20.00 for rider and $25.00 with a passenger. The Ride fee does include a BBQ Meal with all the trimmings after the ride for all Participants of the ride. We will also be selling plates for $10.00 each to the public starting at 11:30 am till sold out. There will be Long sleeve and Pocket ride t-shirts for sale by pre order only for $25.00 with a order deadline of May 04, 2020 by calling Cynthia @ (512)-698-2784. We will have plenty of short sleeve ride shirts for $20.00 the day of ride. We will also have ride pins for $5.00 each. The Ride will take us thru some nice ride roads in Milam, Lee and Burleson Counties. Stops/Sponsors on this Ride are Cyndi's Hawg Hang Out in Hogg, Cliff's Tavern in Rockdale, Bobs Steakhouse in Cameron, Nat's in Milano and The Ranch in Rockdale. The last Bike in will be at 4:00 pm at The Ranch in Rockdale. At this point we will have a BBQ meal prepared by Kathy Quinney and a lot of loving volunteers. Beginning at 4:30 pm our Live Auction will begin with Auctioneer John Fisher handling the auctioneer duties. The Live Auction always promises something for everyone and for all taste. We will also have a 50/50 Drawing and Door prizes. We will have Award Plaques for the Oldest Rider, Youngest Rider, Oldest Bike and M.A.R.C. Consumers Choice along with some special awards also. Please come out and help us support this group of very special people that love Milam County and the Biker Community. The people of M.A.R.C. are so near and dear to our hearts and we want this year to be the best M.A.R.C. RIDE yet. For more information about this ride please contact Charles Starr @ (512)-540-2561 or Neal Ferrell @ (512)-299-7446.
For more information about this Texas Other Event:
(512)540-2561
crstarr15@gmail.com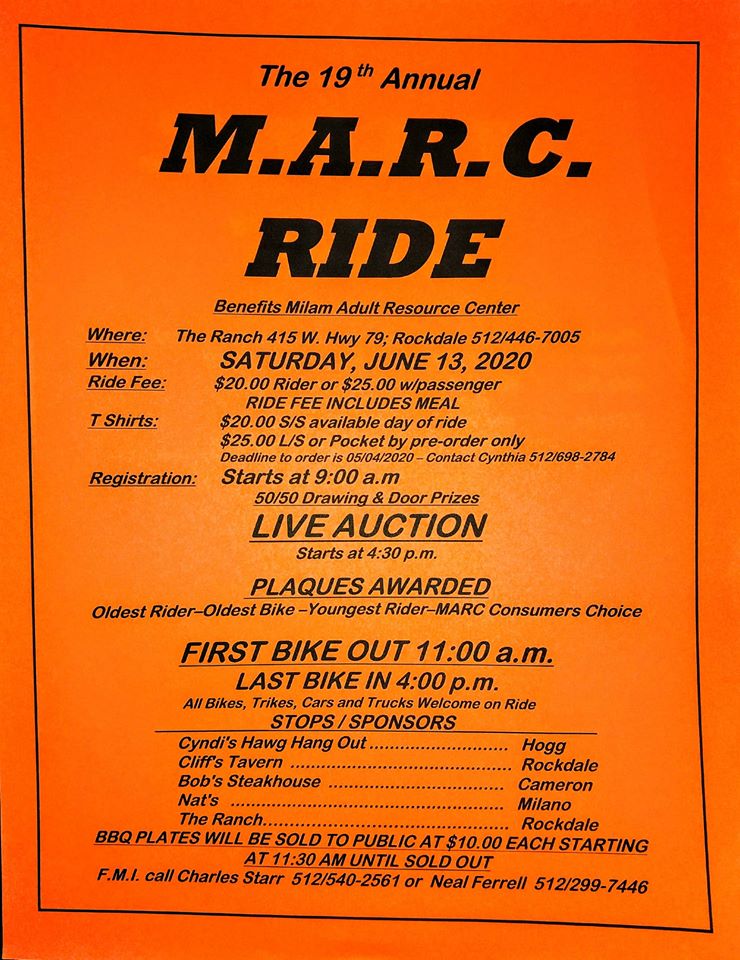 Photo & Video Gallery (0)
No Photos Or Videos Added Yet.