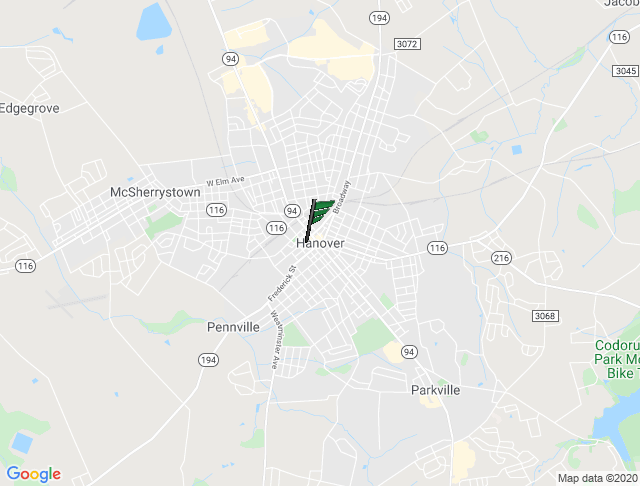 Click here for larger map
Pennsylvania Organized Group Ride Information
Dave Frey Annual Memorial Motorcycle Ride
#61423 Organized Group Ride
2020-08-08 to 2020-08-08
Hanover, PA 17331, USA
A scenic country motorcycle ride will be held in memory of Dave Frey on August 8th, 2020. The ride and registration are free; however, in celebration of the 18th annual ride, t-shirts will be available for purchase for $15.00. Registration will start at 9:30 am at Hanover First Church of God located at 600 Fairview Drive, Hanover PA 17331. Pre- registration is suggested - visit the church website at www.hanoverbeacon.org and look under Upcoming Events. The ride will leave the church at 10:30 am to arrive at Doubling Gap Center in Newville, PA. When we arrive at Doubling Gap Center, there will be a brief program in memory of Dave followed by lunch at approximately 1:00 PM. (The lunch will cost $7 and will be paid at the time of purchase at Doubling Gap Center.) The lunch consists of BBQ Chicken, Baked Potato, Baked Beans, Applesauce, Roll, Dessert and Beverage . Please arrive at the church with a full tank of gas. Should it rain too much to ride we will still serve breakfast and plan to meet at Doubling Gap Center for the program and lunch. Non-riders are welcome to drive to Doubling Gap Center in their cars and join us for the program and lunch. Donations will be accepted to help support Doubling Gap Center, a Christian camp dedicated to ministering to youth, located near Newville, PA. This ministry was very important to Dave, and as an avid outdoorsman, he enjoyed riding his motorcycle through the hills and mountains every opportunity he had. In 2003, The Dave Frey Memorial Ride was organized by family and friends as a way to remember Dave and give back by melding his love of motorcycles with a ministry he supported. * No alcoholic beverages are permitted. Please join us for our 18th annual ride; we look forward to seeing you there! FIND SOMEONE TO SPONSOR YOU TO RIDE!
For more information about this Pennsylvania Organized Group Ride:
(717) 359-7423
davefreymotorcycleride@gmail.com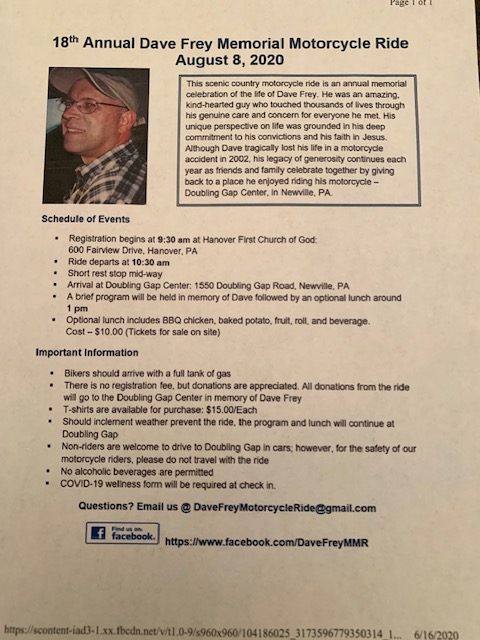 Photo & Video Gallery (0)
No Photos Or Videos Added Yet.