New Hampshire Organized Group Ride Information
Pitbull Poker Ride
#65791 Organized Group Ride
2021-09-12 to 2021-09-12
35 Mont Vernon Rd, New Boston, NH 03070, USA
Polish your chrome, shine up those tires and get your motors running! Second Chance Ranch Rescue in New Boston NH is hosting its first annual Pitbull Poker Run. The NH non-profit is is excited to have motorcycle/car enthusiasts and animal lovers alike- participate in this great event! The participants (cars and motorcycles) must visit five checkpoints, drawing a playing card at each one. The object is to have the best poker hand at the end of the run. Having the best hand and winning is purely a matter of chance. The event has a time limit, however the individual participants are not timed. The event is being held Sunday, September 12, 2021. You can check in at any of the five Southern NH stops after 10am and will need to come "show your hand" at the Molly Stark Tavern in New Boston by 1pm!
For more information about this New Hampshire Organized Group Ride:
603-396-6787
lauraboutot81019@gmail.com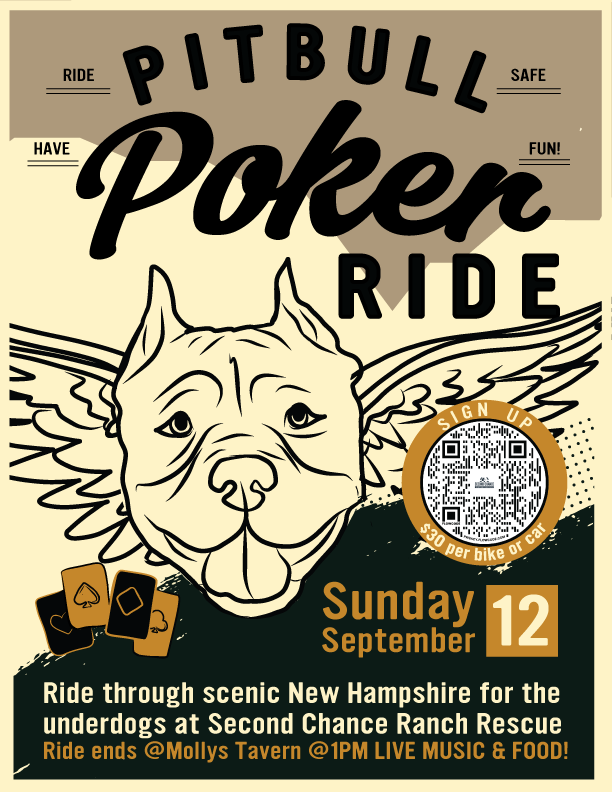 Photo & Video Gallery (0)
No Photos Or Videos Added Yet.