Indiana Bike Rally Information
Ride For Life Spring Breakout Rally
#64008 Bike Rally
2021-05-15 to 2021-05-16
3228 W Anderson St, Anderson, IN 46011, USA
RFL is pleased to announce we have added a Spring Breakout Rally to the 2021 ride/rally calendar. The Spring Rally will start off with a ride leaving Double T Leather at 12 noon with registration starting at 10am. Ride stops include The Music Box Bar & Grill, Ingalls - Woody's, Lapel - Halo's Bar & Grill, Alexandria and DT's R Bar, Anderson. After the ride the Rally Grounds located at 3228 W. Anderson St, Anderson, IN will open at 4pm and remain open until ?. LIVE MUSIC will be provided by The KATRELLE Band from 6pm-10pm. We will have FOOD, DRINKS, CORNHOLE, HORSESHOES, and a ton of DRAMA FREE FUN. RODEO GAMES ("drag" races, slow race, wienie bite contest, barrel race, burnout contests and a fuzzy ball race). RODEO GAMES WILL START AT 5PM. TENT CAMPING IS AVAILABLE. COME PARTY IN THE COUNTRY WHERE THE COUNTRY KNOWS HOW TO PARTY!!! ** RALLY T-SHIRTS WILL BE AVAILABLE FOR PURCHASE. *** ALL PROCEEDS GO TO "TURN AWAY NO LONGER" TANL provides Swag Packs to children entering foster care through their Care4Kidz program. TANL is a nonprofit organization of Madison County helping children in need. ** THE ENTIRE RIDE/RALLY IS FREE WILL DONATION. FEEL FREE TO BRING ANY ITEMS LISTED ON THE TANL SWAG PACK LIST IN THE COMMENTS. ** DONATION TO TANL CAN ALSO BE MADE VIA CASH APP AT $TANL1 Please mark memo as RFL Spring Rally. *** ZERO TOLERANCE FOR DRAMA OR VIOLENCE. *** OVER 21 YRS OF AGE AFTER 8PM... NO EXCEPTIONS. *** FEEL FREE TO BYOB AND LAWNCHAIRS. For those that are participating in the ride, you are welcome to bring your coolers and/or chairs to the Rally Grounds on the Friday prior to the ride where they will be kept under lock until even starts. *** Did I mention ZERO TOLERENCE FOR DRAMA???
For more information about this Indiana Bike Rally:
17656217598
rideforlifemadco@gmail.com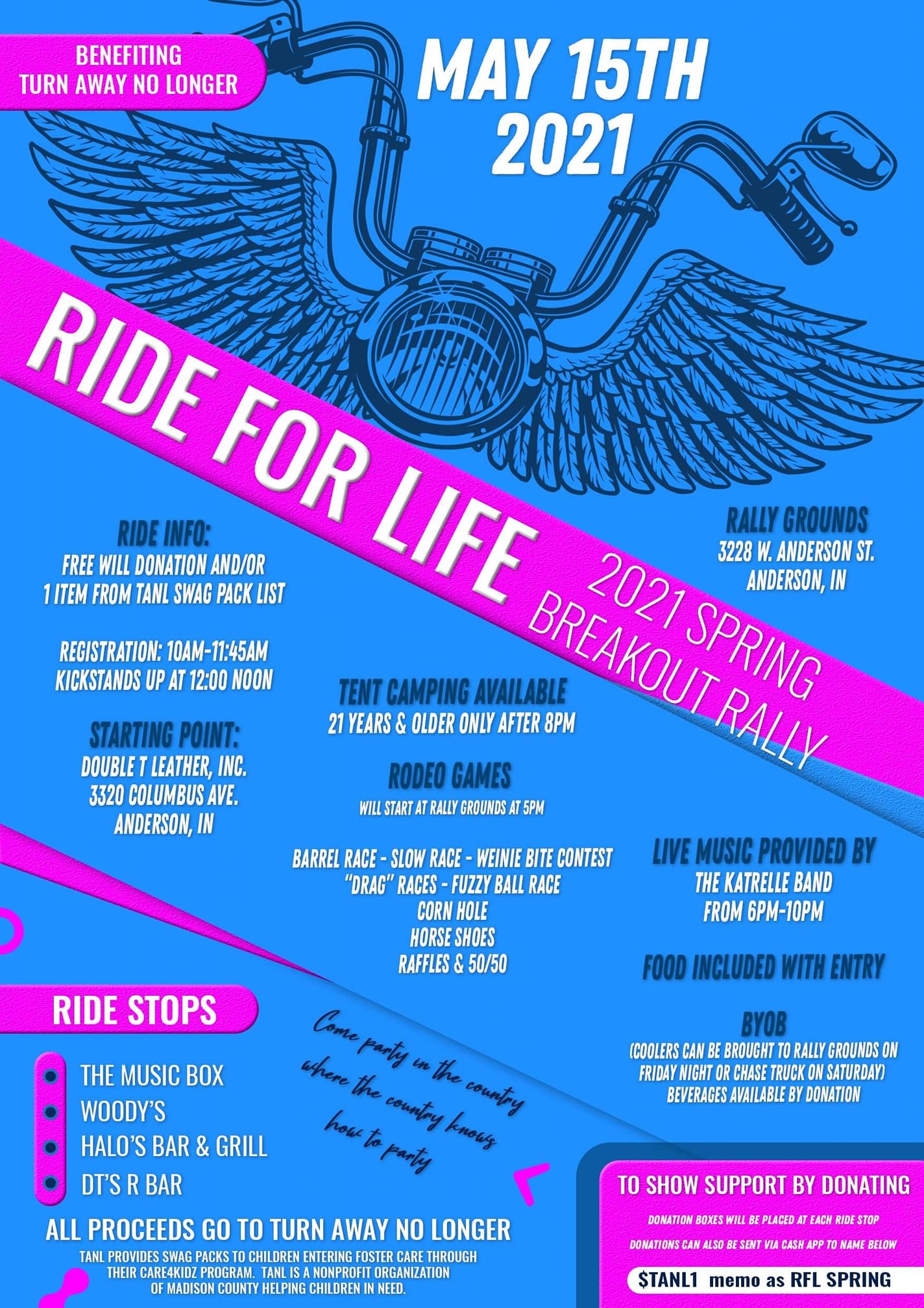 Photo & Video Gallery (0)
No Photos Or Videos Added Yet.