California Other Event Information
Lboc Rides For Ifrd & The Fresno Foster Care Association
#33212 Other Event
2018-05-04 to 2018-05-06
Ramada Inn Airport 5090 E. Clinton Way Fresno Ca.
All ladies that ride their own. LBoC is having our IFRD (International Female Ride Day) event in Fresno! This year we are riding and raising money for the Fresno Chapter of the California State Foster Parent Association.International Female Ride Day is the first Saturday in May! May 4,5 and 6, 2018, Lady Bikers of California will be hosting this weekend event in Fresno out of the; Ramada Inn, University 324 East Shaw Ave Fresno, Ca 93710 559-224-4040 Please mention LBoC event when booking your room! $85 plus tax for a two queen bed room or, the king bedroom with pull-out sofa. $5 more for a third-person. Please try to fill up these rooms We do have a standby motel that is only 400 steps from one door to the other. The other motel is a little more expensive but they also have a big breakfast bar and a pool. Please let me know if you have to book at the overflow motel before you book unless that is where you would rather be it is called the Best Western Plus 480 E. Shaw Fresno CA 9370 (559) 229-5811 make sure you mention the group for your group rate. They have 27 Double bedrooms on hold for us, they did bring down their price for us but still higher than the Ramada Inn, the rooms are $119.99 + 13% tax per room. We will have many, more booths this year. If you are interested in putting up a booth please contact Terri Hendricks at Ladybikersofcaliforniaslady@gmail.com The Booths will be at the Ramada Inn, The public is invited to check out the vendor fair. We will have booths with Tshirts, a pinstriper, a tattoo artist, Many different kinds of booths, bring your motorcycle clothes that don't fit let's have a yard sale, or fashion show auction lol Don't forget it is also Cinco de Mayo?? so if you bring a pinata please make sure you fill it with goodies. or bring some goodies to help fill the one we have. Any raffle gifts will also be appreciated. We Will be posting rides this week also. We have at this moment 5 different beautiful rides set up for Saturday and Sunday. Please book your rooms As Soon AS Possible and get your tickets. Remember set that weekend aside for a great time with sister riders! This is a ladies only event! We are trying to fill up the Ramada before anything so we can all be together. We are going to have a blast, Remember nothing is in stone things are always subject to change. please get your reservations. I am so excited!! WE are going to have beautiful rides, an Italian Buffet dinner, a raffle, a DJ, Please register ahead of time so we know how many dinners we need the dinner cut off will be 2 weeks before the event. If you are interested in putting up a booth please contact Terri Hendricks at Ladybikersofcaliforniaslady@gmail.com get your tickets at https://www.eventbrite.com/e/lady-bikers-of-californias-ifrd-weekend-2018-tickets-40040370827
For more information about this California Other Event:
550-577-7654
ladybikersofcaliforniaslady@gmail.com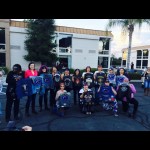 Photo & Video Gallery (0)
No Photos Or Videos Added Yet.