West Virginia Motorcycle Club Information
#9059
None
No gender restrictions
Bike Preference
Other Type
Any
Club Details:
We are Mountain Lakes chapter 17 of the Forged Alliance Riding Club located in central West Virginia. This is a group for motorcycle riders in the Mountain Lakes region of West Virginia. You do not have to be a member of our riding club to join this group just a street legal motorcycle and a love of riding in our beautiful state. We are not a "one brand club.?" All models and makes of motorcycles are welcome, as are riders of both sexes. We are family oriented. We are not competitive riders. FARC is based on old school traditions and values. We ride to enjoy the scenery and the company of friends. Our primary goal is to have fun. We are not a 1% club. We are a social riding club. The name of our club demonstrates the commitment we have to our brothers and sisters and our values; Unity - Friendship - Fidelity.
For more information about this West Virginia Motorcycle Club:
FARC17@groups.facebook.com
https://www.facebook.com/groups/FARC17/?ref=group_cover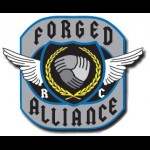 Photo & Video Gallery (0)
No Photos Or Videos Added Yet.