Virginia Motorcycle Club Information
#9012
None
No gender restrictions
Bike Preference
Touring
Any
Club Details:
Twin Valley Riders is the motorcycle club for sport-touringTVR_NoRoundel-trimmed-trans enthusiasts of the Roanoke and New River Valleys of Southwest Virginia. We are chartered as BMW-MOA Chapter 284, however, we are an all-marque club and have no requirement that members ride a particular make of bike. Our members ride everything from European and Japanese sport-tourers to vintage beauties, dual sports and everything in between. Anyone who loves to ride, whether you love scraping pegs, casually gliding through scenic river valleys or jumping' logs and gettin' muddy, will fit right in with this bunch. Excursions tend toward moderately spirited, and invariably cover the twisty backroads and breathtaking scenery of the Appalachian Mountains.
Roanoke, VA, United States
For more information about this Virginia Motorcycle Club:
Info@TwinValleyRiders.org
https://twinvalleyriders.org/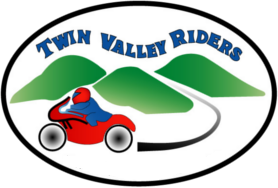 Photo & Video Gallery (0)
No Photos Or Videos Added Yet.