Texas Motorcycle Club Information
#9106
None
No gender restrictions
Bike Preference
Cruisers
Any
Club Details:
UVMC is a non-profit, and family-oriented organization. To support and promote the betterment of the communication and camaraderie between other Veteran organizations and communities, the Motorcycle organizations and communities and the local community members. To enhance the prestige of all motorcycle riders, encourage on-going rider education and skills development, and reduce the potential of motorcycle mishaps. To engage exclusively in social, charitable and educational activities directed at increasing the general understanding of, enjoyment of, competency, sportsmanship and participation in the sport of Motorcycling and Veteran community. To operate and conduct ourselves in a manner that provides equal opportunity and treatment for all motorcyclists. The strength of the UVMC relies on the trinity of Loyalty, Bravery and Honor as is exhibited by its Membership. To promote membership and Brotherhood/Sisterhood. Additionally, set an example for all.
United States
For more information about this Texas Motorcycle Club:
Orlando Sandoval
806-685-3201
unitedvalortreasurer@gmail.com
https://unitedvalormc.com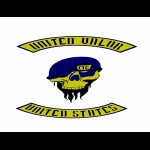 Photo & Video Gallery (0)
No Photos Or Videos Added Yet.