Ohio Motorcycle Club Information
#9094
None
No gender restrictions
Bike Preference
None
None
Club Details:
Est. 2010 . We are a RIDE CLUB with members from N.E.Oh. & N.W. Pa.. All Experienced / Interstate group riders welcome as well as all brand of motorcycles. We primarily host weekend day rides to different destinations & events that vary from 100- 250 +/- miles. We also host a couple 2 to 4 day rides each.season. Give our photo pages a look for our past destinations & events.
For more information about this Ohio Motorcycle Club:
Walt G.
crickcritter1@yahoo.com
https://www.meetup.com/ErieRoadRiders/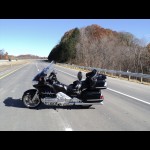 Photo & Video Gallery (0)
No Photos Or Videos Added Yet.