New York Motorcycle Club Information
#9082
None
No gender restrictions
Bike Preference
None
None
Club Details:
Mixed Gender, Any MotorCycle welcome. We look to enhance our riding skills, travel, and embrace our inner Savage, keeping it real at all times. We look to serve the community and believe in working hard and playing even harder.
Watertown, NY
For more information about this New York Motorcycle Club:
GoHard
gohardksmc@yahoo.com
https://www.facebook.com/KSMCNY/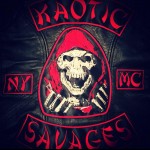 Photo & Video Gallery (0)
No Photos Or Videos Added Yet.