New York Motorcycle Club Information
#9047
yes
No gender restrictions
Bike Preference
Other Type
Harley Davidson
Club Details:
Come along for the ride or make Empire H.O.G.'s membership a way of life. ... but they're always a great way to get together with other H.O.G.'s members and friends.
8 Industrial Lane, New Rochelle, NY, United States
For more information about this New York Motorcycle Club:
Anna Conte
6468522962
anna@annaswebdesign.com
empirehog.com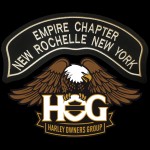 Photo & Video Gallery (0)
No Photos Or Videos Added Yet.