New Jersey Motorcycle Club Information
#9113
None
Men
Bike Preference
Cruisers
Any
Club Details:
Deplorables RC are a NJ based riding club. NOT an MC.. We claim no territory nor show any allegiance. We have no officer structure nor prospecting period. We are simply a group of young guys who have similar interests both politically and socially, and enjoy the open road on two wheels. We are fun, funny, laugh a lot, joke a lot, not easily offended, and only slightly crazy. We are all hard working men during the week with wives and girlfriends, but like to let loose and get some throttle therapy every now and again. All are welcome, we just prefer you to be within the age range of 21-40 and to not be a flaming liberal.
West Milford, NJ, USA
For more information about this New Jersey Motorcycle Club:
Mike
deplorablesrcnj@gmail.com
www.facebook.com/deplorablesrcnj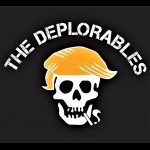 Photo & Video Gallery (0)
No Photos Or Videos Added Yet.