New Hampshire Motorcycle Club Information
#9083
None
No gender restrictions
Bike Preference
Other Type
Any
Club Details:
We are a nontraditional MC. As long as you can ride highway speeds safely we welcome you. No dirt bikes street bikes or street legal bikes only we prefer 500 c c and up. We are a non confrontational club. A family of riders with no tolerance for drama. Nothing is mandatory except for the club dues. We support our Veterans Country and all first responder such as police fire and emt . We do not claim any territory we do not have a club house. We do respect all who ride and we also encourage lady riders to join us. We don't discriminate against anyone. 21 and older is a plus. Rhenium we have and respect for others shows. Our national chapter is in Ohio. We are also on facebook . If your interested please look us up. www. facebook.com/livefreenhchapter We are a nonprofit organization and we do many charity rides. You can also google V-Twin Cruisers MC to see what we are about. Ride safe have fun and respect for all who ride.
Newport, N.H., USA
For more information about this New Hampshire Motorcycle Club:
Na
https://www.facebook.com/groups/277171262776208/?fref=ts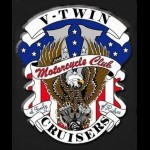 Photo & Video Gallery (0)
No Photos Or Videos Added Yet.