Nevada Motorcycle Club Information
#9070
None
No gender restrictions
Bike Preference
Other Type
Any
Club Details:
American Legion Riders (ALR) continue to serve America as motorcycle riding members of the American Legion, the American Legion Auxiliary, and the Sons of the American Legion. American Legion Riders are motorcycle riders who enjoy socializing on two-wheels while supporting the Aims and Purposes of the American Legion. The men and women of the American Legion Paradise Post 149 are proud of our efforts as a community based organization. Unlike other similar organizations, most of our time is working in the community, or raising money so that we can give it away. We have an established goal of donating at least $1.00 for every member for every charity that we donate to. It is, but far, the highest per capita donation of any American Legion Post in Nevada. We are a Veterans Service Organization, active in the community, as the American Legion was intended to be. Unlike many American Legion Posts, we do not own a bar, which means we are not tied down to and can spend our efforts doing the many things that we have done, The American Legion was chartered and incorporated by Congress in 1919 as a patriotic Veterans organization devoted to mutual helpfulness. It is the nation?"s largest Veteran?"s service organization. In contrast to other Veteran?"s organizations, the Legion offers a number of local programs and activities to strengthen its commitment to our nation?"s grass roots and the people we serve.
4360 Spring Mountain Rd., Las Vegas, NV 89102
For more information about this Nevada Motorcycle Club:
Vic "Doc" Moss
7024933028
info@post149.org
www.Post149.org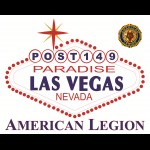 Photo & Video Gallery (0)
No Photos Or Videos Added Yet.