Mississippi Motorcycle Club Information
#9076
None
No gender restrictions
Bike Preference
Other Type
BMW
Club Details:
See our web site https://www.bmwridersofmississippi.org/ We, the members of the BMW Riders of Mississippi, hereby associate ourselves for the purpose of fellowship and promoting the enjoyment of BMW motorcycles. This organizations will serve as a gathering place for people interested in all aspects of BMW motorcycling: on and off-road, racing, touring, commuting, performance, trials, bike shows and related issues of long distance riding, motorcycle safety programs, and others which are legitimately related to BMW motorcycles of the sport of motorcycling. Contact us at info@bmwridersofmississippi.org
Jackson, Mississippi, USA
For more information about this Mississippi Motorcycle Club:
Dan
info@bmwridersofmississippi.org
https://www.bmwridersofmississippi.org/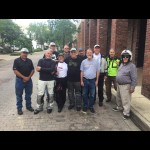 Photo & Video Gallery (0)
No Photos Or Videos Added Yet.