Massachusetts Motorcycle Club Information
#9072
None
No gender restrictions
Bike Preference
Other Type
Any
Club Details:
WE ARE NATION WIDE You don't need a motorcycle to join. But if you do have one we don't care what you ride as long as it is safe. We have a verity of bikes in the club. From Sketters to Beaters. We Believe in what we do which is why our EVENTS ARE THE BEST to Attend! ! ! We have fun! We are a Family! NOT just a club. We have our own fun times also. If your looking for a place to find Carring People, Make New Friends, Folks with INTEGRITY & want to Help our Veterans Whether your just trying to Give Back, Show your Appreciation or a Veteran looking for some of the brotherhood you left Come to one of our meetings or events. See what we are about & talk to any of us. (Meetings are the first Thursday of each month @ 7pm) RIDE SAFE
Patriot Riders of America - Chapter 3 c/o VFW 176 West Street Gardner, MA 01440
For more information about this Massachusetts Motorcycle Club:
James D Peppard
9788943769
backrds@yahoo.com
www.patriotridersofamericachapter3.com/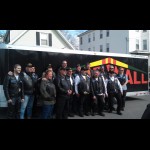 Photo & Video Gallery (0)
No Photos Or Videos Added Yet.