Illinois Motorcycle Club Information
#9008
None
No gender restrictions
Bike Preference
Other Type
None
Club Details:
Note: We are a riding organization, not a motorcycle club (MC). The Purpose of the VFW Riders Organization is to promote the aims, objectives, and purposes of the Veterans of Foreign Wars as a family-oriented motorcycling activity for members of the VFW and VFW Auxiliary. For God and Country, we associate ourselves together for fraternal, patriotic, historical, and educational purposes aligned with those of the VFW. We strive to preserve and strengthen comradeship among our members, to assist our comrades, to perpetuate the memory and history of our fallen, to maintain true allegiance to the United States of America, fidelity to its Constitution and laws, foster patriotism, and maintain and extend the institution of American freedom. President: Porkchop
515 N West Ave, Taylorville, IL, United States
For more information about this Illinois Motorcycle Club:
David Schafer
(217) 824-2115
grizzly@taylorvillevfwriders.com
www.taylorvillevfwriders.com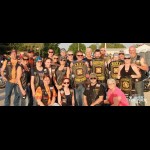 Photo & Video Gallery (0)
No Photos Or Videos Added Yet.