Florida Motorcycle Club Information
#9054
yes
No gender restrictions
Bike Preference
Cruisers
Any
Club Details:
Foremost the MFC MC (Military Fire Rescue Cops Motorcycle Club) is about the love of riding motorcycles. We are veterans, active duty military, law enforcement, firefighters, emergency medical services, those who serve in support to those organizations and civilian patriots. Unlike solo riding, being part of the MFC means enjoying that ride experience with the same brotherhood and camaraderie we have known during our service to the country. The MFC MC is a non-profit organization and each chapter works to support a charity of their choice. We always strive to present a positive image of our Club and the contributions of our members by building and improving our communities.
7504 Riverview Drive, Riverview, FL, United States
For more information about this Florida Motorcycle Club:
Spooner
spoonermfcsouthbay@gmail.com
https://www.facebook.com/MFC-South-Bay-187898821671279/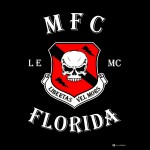 Photo & Video Gallery (0)
No Photos Or Videos Added Yet.