Delaware Motorcycle Club Information
#9112
None
No gender restrictions
Bike Preference
Other Type
Any
Club Details:
The Green Knights (TM) is an international Military Motorcycle Club (MMC) (TM) founded in 1999. The Green Knights MMC welcomes all members of Active Duty, National Guard, Reserves, Coast Guard, Military Retirees, and DoD Civilians. We support Motorcycle Mentorship, Safe Riding Habits, and Military Camaraderie. Chapter 74 is based in New Castle, Delaware.
New Castle, DE, USA
For more information about this Delaware Motorcycle Club:
GKMMC74@gmail.com
www.gkmmc74.org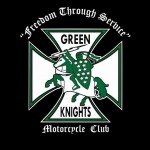 Photo & Video Gallery (0)
No Photos Or Videos Added Yet.