Arizona Motorcycle Club Information
#9067
yes
No gender restrictions
Bike Preference
Cruisers
Harley Davidson
Club Details:
We are looking for guys that like to party, love to ride, andknow how to have a good time. We are a Motorcycle Club so having an American made bike and knowing how to ride is a must. We are a family club and enjoy having getting together and hanging out with the family as well for BBQ and whatnot. We invite anyone interested in Hanging Around or Supporting our Club to hit us up to see what we are all about. For more information about us please visit our website. No current or former member of Law Enforcement or DOC.
Phoenix, AZ, United States
For more information about this Arizona Motorcycle Club:
Gnome
gnome@obmcsaltriver.com
www.obmcsaltriver.com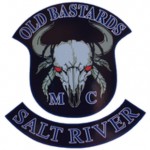 Photo & Video Gallery (0)
No Photos Or Videos Added Yet.