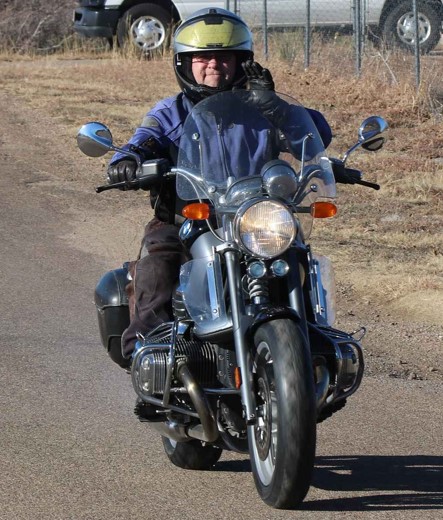 KLC's Motorcycle Riding History:

"I started riding at age 14 on a Honda 90 and moved on to progressively larger bikes with a CB350 for a couple years then a CB 450 for 5 years and finally to a '76 BMW R75/6 in the fall of 1977. Accumulated mileage on those bikes was approximately 100K by 1980 when I had to sell the R75 to pay off some medical bills. Fast forward 20 years to April of 2000 when I brought home a still new '99 BMW R1200C and pretty much went bat-crap crazy making up for those lost 20 years of riding. I'm now on my 3rd R1200C , but also still have the second one currently with 138K miles on it. During the span from April of 2000 to the present I have owned 7 BMWs & still own 4 of those. A large part of my mileage for 17 years was commuting about 10K miles per year but I also logged about as many of fun miles on vacations to searching for various photo-ops from riding number games to the famed bluebonnets of central Texas every spring. In the end, I have accumulated another 375K miles mostly around Texas since coming off that 20 year hiatus. I'm pretty sure I've ridden every curve in the Panhandle multiple times and am pretty familiar with central and west Texas all the way down to the Big Bend area. In addition to Texas, I've also done a fair number of rides in NM, AZ, MO, OK and AR. In the beginning of making up for lost time, I rode pretty hard for a few years, but like many, have mellowed with age and now take a leisurely pace just about everywhere I go. There is still that urge wick it up a bit on twisty roads and one of the reasons I have kept the R1100S purchased for my 60th birthday back in 2014."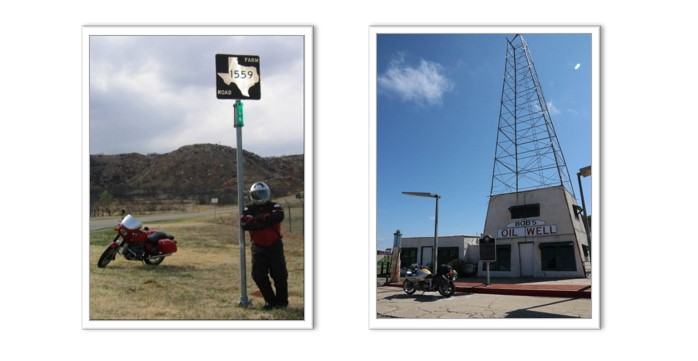 KLC's Favorite Motorcycle Roads in Texas:
The Twisted Sisters-FMs 335,336, 337 NE of San Antonio. Second to those are most of the many hundreds of FM roads here that take you through all the small towns, up and down the hills, around the best curves and across the plains.

KLC's Advice To Those Riders Looking to Tour Texas:
"Touring Texas" is something that might take a while. The state is approximately 900 miles north to south and 900 east to west with more miles of roadway than any other state at around 680,000. That's almost as much as #2 and 3 combined and 80K more than the bottom 13 combined. We have such a huge diversity of terrain and types of roads, there is something that will appeal to every taste in riding style. There are long straight, flat stretches of Interstate for those who like to kick back and just cruise to twisty roads through the rugged terrain of the hill country that will make you think you could be on hairpins in Colorado to pine forests in east Texas and much, much more. So, if you plan to tour Texas, you might want to set aside more than just a few days. OR; plan several trips over the course of a several years if you want to see & ride it all."
Additional advice from KLC:
"Avoid Texas from June through August if you don't want to swelter in the heat. Spring and fall are ideal times for most of the state while winter can be hit or miss as we just saw with the great freeze of 2021 that affected most of the state from the Gulf Coast to the Panhandle.
If you really want to see the best sights; get off the Interstates to seek out smaller state hiways and farm to market roads. Those will take you through quaint little towns with rich history and great little eateries with something to satisfy every palate.
Keep in mind the advice given to me by one of my best friends father just before we set off on our first "tour" on Honda CB350s in 1971; He said, "boys, I"m not going to tell you how to ride or manage your trip, but know this, you will SEE a lot more driving 55 rather than 70." That was very good advice 50 years ago and still is today."
---
Note: Recently, MotorcycleRoads.com (McR) announced the start of a new program for assigning prolific motorcycle riders as "Road Rangers" for various regions of the USA and Canada - the MotorcycleRoads.com Road Ranger Program. This program is a great way for prolific motorcycle riders in various regions to share their knowledge and expertise of the best motorcycle roads and rides within that region.