If you'd like to print off a hard copy of a motorcycle route map to take with you on a ride, there are a couple of different ways to do this. 
First, navigate to the motorcycle route's description page you are interested in printing. Then, follow the instructions below: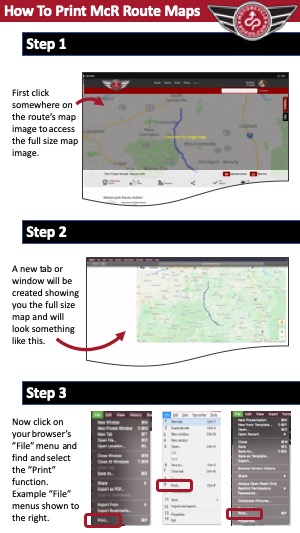 As an alternative to the above, you may want to print out the map along with the information about the route (the route's scenery ratings, the route's drive enjoyment ratings, and the route's tourism opportunities).  To print the entire route description page in one continuous print out, skip Step 1 above (do not bring up a new tab/window with the larger map) and go to Step 2 (select the "Print" function from the Internet browser's "File" menu).
Note about printing from mobile devices (e.g., smart phones, tablets, etc.):  Step 3 above shows what some common desktop browser (e.g., Safari, IE, Chrome) look like and where the "Print" functions are (note: mobile device printing steps vary greatly and can't be covered here.  If you need help, I suggest you do an Internet search on how to print from your mobile device.  Example:  "how to print from a webpage on an iphone").  
Lastly, if you believe this FAQ is inaccurate, confusing, or missing some key information, please let us know by clicking on the red "Feedback button found at the top or to the right side of all pages.