Motorcycle Route Author
By Guest (0 McR Points)
on Feb 28, 2002
Written Directions
To start on the north or upper half, go Staunton VA on interstate 81 and then head east on interstate 64 towards Waynesboro or Afton VA. Look for and follow the Blue Ridge Parkway signs. To start in the middle you should go to Wytheville VA on I-81 and then get on I-77 heading southeast toward the town of Fancy Gap VA (its exit #8 off of I-77). Look for the Blue Ridge parkway signs. Or to start at the lower/southern end (and then heading north) go to the town of Cherokee (just southeast of the Great Smoky Mountain National Park) or you can get on the Blue Ridge Parkway in Asheville NC as well.
Scenery
The upper half (the longer of the two halves) of this road runs from Afton VA, (near Waynesboro and Staunton, VA) south till it intersects I-77. This part of the road ambles through the Virginia country side with several sites to stop such as an old mill pond with a working millwheel and some Civil War battle sites.

The lower half runs from I-77 (near a VA town called Fancy Gap) to Cherokee NC. This part of the road is mostly in the great Smokey Mountains of North Carolina. There are numerous overlooks to view the beautiful Smokey Mts. as well as several outstanding places to see such as blowing rock and an old plantation house turned into a craft house. The part below Ashville NC is perhaps the most awesome Mt views anywhere in the eastern part of the country and terminates at the Cherokee Indian reservation where a museum and an outdoor drama are well worth seeing. The federal government hosts a very nice informational website covering the Blue Ridge Parkway.
Drive Enjoyment
One of the best parts of this road is the limited access. The only trucks ever encountered are the few service truck that service the two service station/restaurant areas along the parkway. Another plus is the 45 mph limit that allows you to see the surrounding scenery with out so much risk of having an accident. The road itself is very well maintained and the many curves are gentle.
Tourism Opportunities
There is one service station/restaurant area on each half of the parkway. The upper one also has a Mt motel that is very reasonably priced but doesn't offer TV. There are several pull off areas where numerous sites can be viewed. There are no signs along the parkway so it is a good idea to try to have a map so that you can tell where the small towns are along the way and where food and lodging are available.
Top Images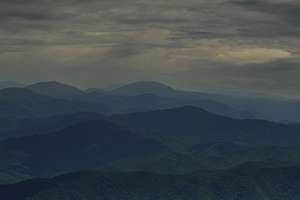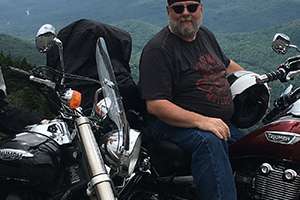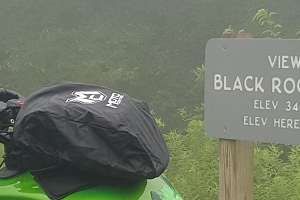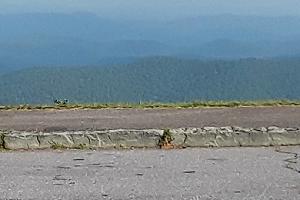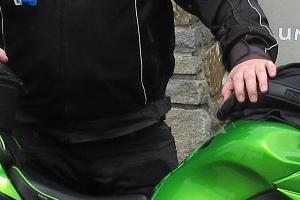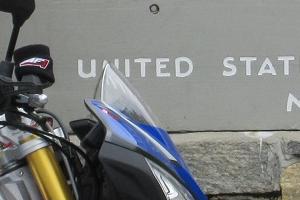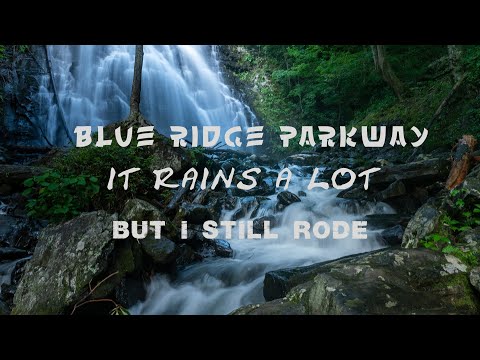 Share Your Comments ( 84 ) Guest
April 25, 2010
0 McR Points
Motorcycle Type :
Standard
Cannot rate this ride highly enough! Scenery is world class and the amount of pull-offs along it ensures you get plenty of viewing. Seeing the leaves changing color in the fall is a must. The road is well maintained with no commercial traffic, and plenty of small, hidden villages along its length. If you're a fan of twisty roads, make sure you ride Deal's Gap near the southern end of the BRP. The BRP will definitely remind you why you ride a motorcycle.
Was this road review helpful?
3 riders
found this road review useful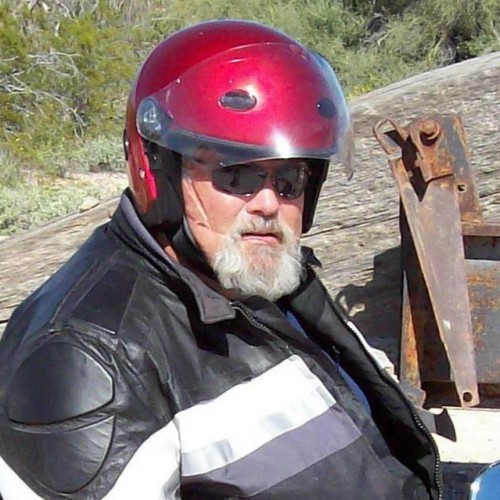 GJRonK
February 9, 2013
2268 McR Points
Motorcycle Type :
Cruiser
I've read the many comments made by riders about this route. One is that the scenery can become monotonous. That is true. But it is also reassuring to know what type of roadway, what type of pulloffs, what type of tourist towns, what type of hills, etc., one is going to encounter. It is reassuring to know what to expect so you can just luxuriate in knowing you won't have trucks, pedestrians, and rush hour traffic. The most traffic is around some larger towns and some rest areas only.

I found that I enjoyed riding for one day, then to stop at a B&B for a couple of days and explore side roads at leisure.

Worked for me!
Was this road review helpful?
3 riders
found this road review useful JFeezy
July 8, 2016
15 McR Points
Excellent ride, just be open to adjusting your route some.
I went into the trip with anticipation of riding the entire BRP from end to end as well as Skyline Drive. I started near Cherokee NC and did it backwards. The first 1/3 was AWESOME! You hit the 3600ft elevation and it's the most scenic portion of the trip. A bit after Asheville it starts to flatten out and is mostly farms. So you go from being on the top of mt's to seeing horses and peoples homes. After Roanoke the last 1/3 gets scenic again.
If your heart isn't set on riding all 460 miles of the Blue Ridge there are some nicer roads nearby during that middle third of it.
All in all it was a fantastic trip and doing it in 3 or 4 days didn't leave me enough time to see half of the sites around. You have to come down off the ridge if you want to see things like Looking Glass Falls, so plan accordingly, take your time and enjoy yourself.
Was this road review helpful?
3 riders
found this road review useful