Motorcycle Route Author
By Guest (0 McR Points)
on Feb 28, 2002
Written Directions
To start on the north or upper half, go Staunton VA on interstate 81 and then head east on interstate 64 towards Waynesboro or Afton VA. Look for and follow the Blue Ridge Parkway signs. To start in the middle you should go to Wytheville VA on I-81 and then get on I-77 heading southeast toward the town of Fancy Gap VA (its exit #8 off of I-77). Look for the Blue Ridge parkway signs. Or to start at the lower/southern end (and then heading north) go to the town of Cherokee (just southeast of the Great Smoky Mountain National Park) or you can get on the Blue Ridge Parkway in Asheville NC as well.
Scenery
The upper half (the longer of the two halves) of this road runs from Afton VA, (near Waynesboro and Staunton, VA) south till it intersects I-77. This part of the road ambles through the Virginia country side with several sites to stop such as an old mill pond with a working millwheel and some Civil War battle sites.

The lower half runs from I-77 (near a VA town called Fancy Gap) to Cherokee NC. This part of the road is mostly in the great Smokey Mountains of North Carolina. There are numerous overlooks to view the beautiful Smokey Mts. as well as several outstanding places to see such as blowing rock and an old plantation house turned into a craft house. The part below Ashville NC is perhaps the most awesome Mt views anywhere in the eastern part of the country and terminates at the Cherokee Indian reservation where a museum and an outdoor drama are well worth seeing. The federal government hosts a very nice informational website covering the Blue Ridge Parkway.
Drive Enjoyment
One of the best parts of this road is the limited access. The only trucks ever encountered are the few service truck that service the two service station/restaurant areas along the parkway. Another plus is the 45 mph limit that allows you to see the surrounding scenery with out so much risk of having an accident. The road itself is very well maintained and the many curves are gentle.
Tourism Opportunities
There is one service station/restaurant area on each half of the parkway. The upper one also has a Mt motel that is very reasonably priced but doesn't offer TV. There are several pull off areas where numerous sites can be viewed. There are no signs along the parkway so it is a good idea to try to have a map so that you can tell where the small towns are along the way and where food and lodging are available.
Top Images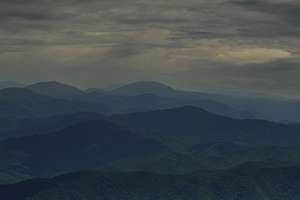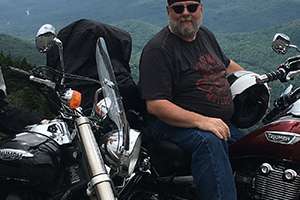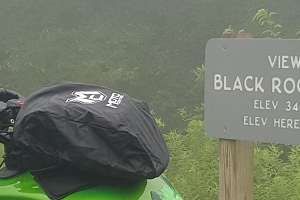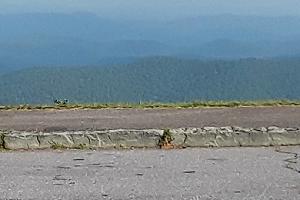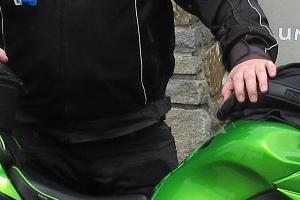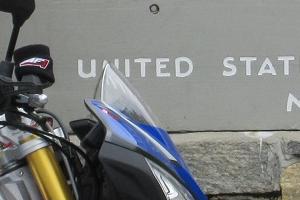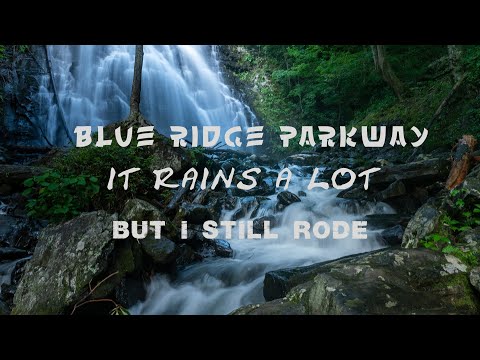 Share Your Comments ( 84 ) JFeezy
November 3, 2016
15 McR Points
For reference I started on the NC side and finished at MM 0 in VA:

The first 1/3 (Cherokee to Asheville) is absolutely incredible! I mean breathtaking views, the tunnels, the turns. I couldn't believe I was actually doing it.
The middle 1/3 really flattens out a lot. Instead of mountains and trees you start seeing more farms and houses. I saw the backs of people's houses and started wondering if I was still on track.
The last 1/3 get's nice again, maybe around Roanoke on. It's not as nice as the 1st 1/3 but I was still glad to be doing it.

If you are set on saying you rode all 469 mi by all means ride it. But there are a lot nicer routes around the middle section. Or jump on 221 (I could see the 4 lane state hwy while sitting in the BRP one lane construction) and skip middle section entirely, giving yourself a time to check out Cherohala Skwy/Deals Gap/Moonshiner 28/NC 151/KY 421 or go see things like Looking Glass Falls. I think you see where this is going.

I'm still rating it 5 stars just for that first section alone. The journey is yours to enjoy as you will, so please don't let this review discourage you from riding it all. I came down from Chicago so had to make the most of my time, ymmv.

TIPS
Check the official BRP website or talk to locals about closures/construction. Be prepared for temps 20F cooler than what the lower cities predict. Be prepared for temps fluctuating 20F depending on the altitude or time of day. Bring quality rain gear! Have good working fog lights! I crept up on some small cars and was amazed how close I got before I could see their tail lights. Then realized my bikes taillights are smaller than theirs. So I'd hit a pull-off and have some coffee and wait it out. Generally the fog doesn't burn off til 10'ish.
Thanks for reading.
Have fun and ride safe.
Was this road review helpful?
4 riders
found this road review useful Jirgis
April 27, 2012
0 McR Points
Motorcycle Type :
Sport - Touring
I did this back in 2006, it is one of the best roads for motorcycles, I will do it again, I remeber taking a detour and going to Boone for lunch, the best twisty roads of the whole area (saw a couple of low sides there, be careful. Try to do it before you check out from this world. Also try to take at least 2 days on the parkway.
Was this road review helpful?
4 riders
found this road review useful pigboy
July 12, 2014
0 McR Points
Motorcycle Type :
Sport - Touring
Forget about the Dragon. The Ashville side of the Blue Ridge is a MUST RIDE. Rode the first 100 miles a couple times and dream everyday for my return. Enjoy
Was this road review helpful?
4 riders
found this road review useful