Motorcycle Route Author
By Guest (0 McR Points)
on Feb 28, 2002
Written Directions
To start on the north or upper half, go Staunton VA on interstate 81 and then head east on interstate 64 towards Waynesboro or Afton VA. Look for and follow the Blue Ridge Parkway signs. To start in the middle you should go to Wytheville VA on I-81 and then get on I-77 heading southeast toward the town of Fancy Gap VA (its exit #8 off of I-77). Look for the Blue Ridge parkway signs. Or to start at the lower/southern end (and then heading north) go to the town of Cherokee (just southeast of the Great Smoky Mountain National Park) or you can get on the Blue Ridge Parkway in Asheville NC as well.
Scenery
The upper half (the longer of the two halves) of this road runs from Afton VA, (near Waynesboro and Staunton, VA) south till it intersects I-77. This part of the road ambles through the Virginia country side with several sites to stop such as an old mill pond with a working millwheel and some Civil War battle sites.

The lower half runs from I-77 (near a VA town called Fancy Gap) to Cherokee NC. This part of the road is mostly in the great Smokey Mountains of North Carolina. There are numerous overlooks to view the beautiful Smokey Mts. as well as several outstanding places to see such as blowing rock and an old plantation house turned into a craft house. The part below Ashville NC is perhaps the most awesome Mt views anywhere in the eastern part of the country and terminates at the Cherokee Indian reservation where a museum and an outdoor drama are well worth seeing. The federal government hosts a very nice informational website covering the Blue Ridge Parkway.
Drive Enjoyment
One of the best parts of this road is the limited access. The only trucks ever encountered are the few service truck that service the two service station/restaurant areas along the parkway. Another plus is the 45 mph limit that allows you to see the surrounding scenery with out so much risk of having an accident. The road itself is very well maintained and the many curves are gentle.
Tourism Opportunities
There is one service station/restaurant area on each half of the parkway. The upper one also has a Mt motel that is very reasonably priced but doesn't offer TV. There are several pull off areas where numerous sites can be viewed. There are no signs along the parkway so it is a good idea to try to have a map so that you can tell where the small towns are along the way and where food and lodging are available.
Top Images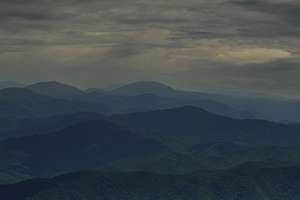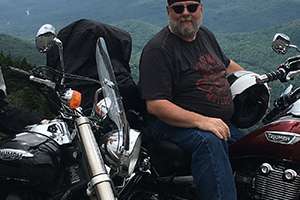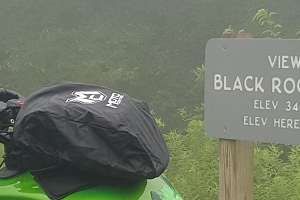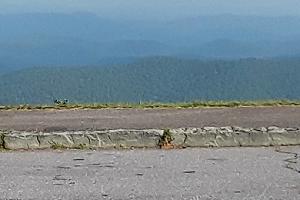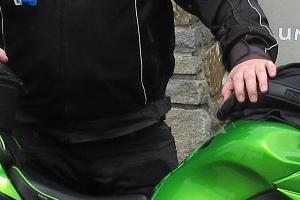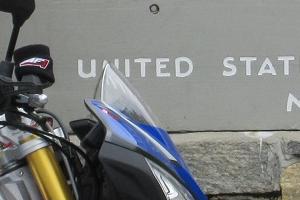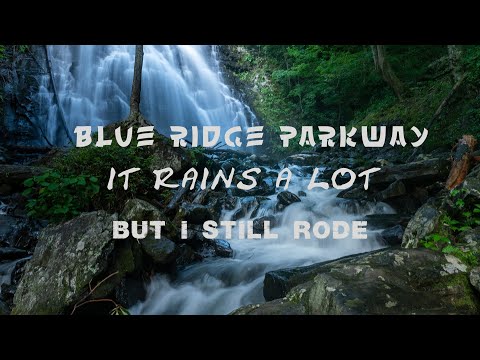 Share Your Comments ( 84 )

lkvb5753
August 24, 2019
27 McR Points
Motorcycle Type :
Sport - Touring
was on brp in early june with a good friend. after the first day we got off and rode around the area. the road to us was boring as f---. have been to montana, wyoming colorado, and cape bretton island. wasnt even close to being a good ride.
Was this road review helpful?
1 riders
found this road review useful
Anthony C
October 21, 2018
8 McR Points
Motorcycle Type :
Touring
In mid May of 2017, two other riders Mike and Ed, and I road from Virginia Beach, VA to Floyd, VA. we stayed the night to enjoy the Blue Grass music. And it was good! These groups had it together with the finger picking banjos to the 12 string folk guitarists, they were great to say the least. The next morning we had breakfast, saddled up and headed for Charlottesville, VA on the Blue Ridge Parkway. WOW! It was very beautiful with the ups, downs, lefts, and rights. There was very little traffic and the riding was phenomenal. My spot was bringing up the rear, I would lay back let the two guys a head of me get way ahead. I would bring up the rear following the speed limit of corse, getting into the turns was awesome. The speed limit in most areas was 45 mph, and unless there was a curve with a reduced speed limit sign. I maintained my 45 mph and laid my big ride into the turns and loving every minute of it. WOW what a beautiful road and the cenerary was breath taking. We didn't see much wildlife at all, and I wasn't disappointed with that. In fact I enjoyed that fact because it let me enjoy my ride in every way. We stopped several times at rest areas, we met very nice folks along the way. We even had a quick bite to eat and enjoy the views as we sat at a picnic table. It took us about 3 hours to get to Charlottesville, took another short break. We headed for Interstate 64 East back to Virginia Beach, VA. I had a great weekend with the guys. Thanks for reading, I hope you've enjoyed it.
Anthony C
Was this road review helpful?
1 riders
found this road review useful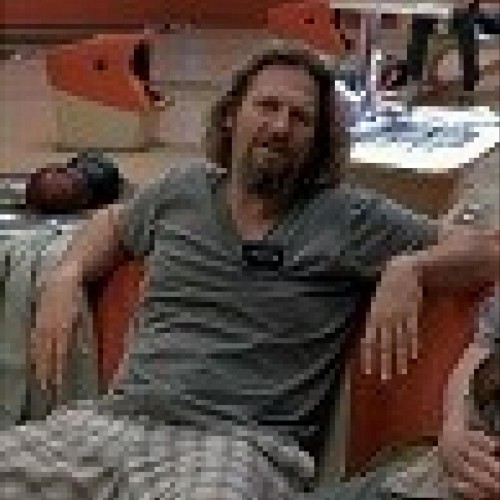 Akumu
November 21, 2019
2697 McR Points
Motorcycle Type :
Sport - Touring
As a whole the rode is amazing, but to be real, the parts are in North Carolina. Virgina has good 'cross over' roads that go up and over the ridge, but just by virtue of elevation the NC BRP is even better. (Not that you shouldn't go if you can only make VA.) Up and down this road a bit, and I've never seen a cop, but hear they do hang around the city areas of the road. October is, of course, the best time to go, but it's probably the most crowded, as well. Last thing - This road has it's own climate. It doesn't matter what it's doing on the road below, chances are always fair that it's going to be cold and rainy.
Was this road review helpful?
1 riders
found this road review useful