Motorcycle Route Author
By Guest (0 McR Points)
on Jul 01, 2001
Written Directions
North entrance....Go south of Billings and I-90 on highway 212 through Red Lodge (MT). About 15 minutes south of town you go UP! way up to nearly 11,000 feet. Extreme road. About 2 hrs later after going over the top and down a even narrower south decent into Wyoming, you can go West into Yellowstone Park on 212 through Cook City, or East to Cody on the Chief Joseph scenic Highway, and it is nearly as good as the Beartooth! From the East do yourselves a favor and come from Sheridan over the Bighorn Mountains(another great route!). Suggest if going South to forget Yellowstone Park and go east! Fantastic mountain route. If you gotta see the park..Turn around at Sheridan and go back in on 14 through Cody. Don't miss these roads!
Scenery
This road will curl your hair. Lotsa UP and DOWN, little guardrails, awesome scenery. You couldn't build a better route than this one! Expect to see as many bikes on this road as cars! Everything from incredible mountains, dense forest, rivers, rocks to snow and tundra. And a whole lot of "straight down"!. Photo contributed by visitor in May 09: "Beartooth Pass In August 2008."
Drive Enjoyment
Steep grades, endless hairpin curves, countless switch-backs, good pavement as no trucks, campers dare go up this one!

Photo contributed by visitor in May 09: "Bear Tooth Pass Photo - August 2007."

Photo contributed by visitor in Jul 09: "View from overlook in MT. This is a stop with resrtooms and photo ops."

Photo contributed by visitor in Jul 09: "Near the summit on 212 in MT. Rain in the distance."
Tourism Opportunities
Just lots of pullouts to peer over the edge!
Motorcycle Road Additional info
- View the weather forecast for this area from Yahoo weather .
Top Images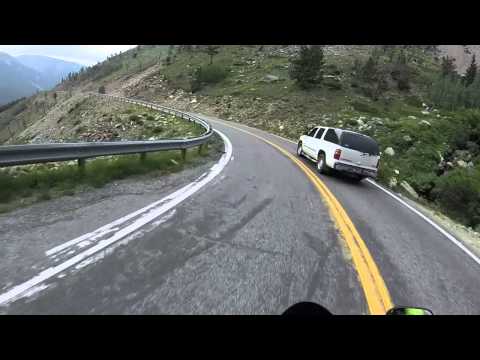 Share Your Comments ( 74 ) Guest
December 20, 2010
0 McR Points
Motorcycle Type :
Cruiser
we tried to do the pass in late june of 2010..it was cloudy/overcast 64 degrees in red lodge when we left... we could not make it to the summit do to the snow that started to fall (we turned around when the snow accumulated 6-8" on the road. 2 of the 5 bikes i was with went down..as we were travelling slow, no damage to anyone...1 bike broke a mount for the saddlebag.... like the warnings say...the weather can change quickly....will try again next year
Was this road review helpful?
4 riders
found this road review useful MotoForever
July 18, 2015
0 McR Points
Motorcycle Type :
Touring
What a treat! We rode from Yellowstone to Red Lodge in July 2015. Wow, we started with hundreds of Buffalo before we arrived at Cooke City. Lots of services there. We actually saw one more buffalo (walking down the road) as we left Cooke City and headed up the Beartooth Highway. The scenery is amazing. I love the rocky meadows and many lakes by the road. The switchbacks are all so smooth and there are plenty of places to pull over and just sit in the beauty. You'll know what I mean when you ride this road. It can get quite a bit cooler at the top. We had cloudy almost rain threatening clouds but no rain or... We did put on extra gear at the top to keep warm, but didn't really need to. I'd make sure to bring warm clothes just in case. We were well above the snow line. We got to ride back from Red Lodge the next morning. It was beautifully sunny and lots warmer. But it was pretty cool at the top that day too! There is a little store coming down the Cooke City side if you are inclined to buy mementos. Lots of bikers equals great motorcycle road. I saw Harleys, BMWs, Ducatis, Kawasakis, Hondas, absolutely every kind of bike up there. Be careful on the tight curves. This is a very fun road and one of the very top of my list. A Must Do Ride!
Was this road review helpful?
3 riders
found this road review useful Jimmy R
August 23, 2017
0 McR Points
Motorcycle Type :
Touring
On a trip from Kentucky to Montana in July 2016, I rode to the top of Pikes Peak, Rocky Mountain National Park, Big Horn Mountains (east to west and west to east), Beartooth Pass and Going to the Sun Road. Of all the roads, Beartooth Pass was the most memorable. I rode east to west and it took me most of the day because I had to stop at almost every turnout to admire the scenery and take some pictures. I have ridden most of the famous motorcycle roads in the US and many in Europe and Australia, but none can compare to the sheer beauty of the Beartooth Pass.
Was this road review helpful?
3 riders
found this road review useful