Motorcycle Roads in Ohio
The Buckeye State offers a top quality collection of popular motorcycle roads and destinations among Midwestern states. Southeastern Ohio (OH) in particular is a motorcycle riding paradise filled with quaint country towns, hills, & twisty roads, many offering river hugging journeys. The northeastern portion of the state offers access to the 11th largest fresh water lake in the world - Lake Erie - with its 262 miles of Ohio shoreline. The rest of the Ohio offers motorcycle rides meandering through classic portraits of Midwest Americana.


Highest Rated Motorcycle Roads & Rides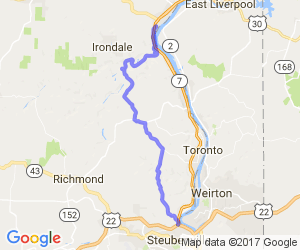 Ohio
You start out down by the Ohio river but climb up into a lot of hilly areas with a combination of open field scenery along with thick woods. At some points you are at the peak of some tall hills with great views....
Find what you are looking for
Upcoming Motorcycle Events in Ohio Show all
No Motorcycle Events Found
Featured Motorcycle ArticlesShow all