Reliez Valley Rd/Bear Creek Rd + ADD NEW ROUTE
55 in California California28 Miles Miles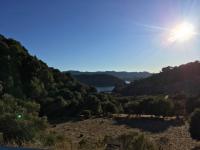 By T. Griffin
on August 1, 2008
Written Directions
From corner of Pleasant Hill Road/ Reliez Valley Rd in Lafayette:
1. Head northwest on Reliez Valley Rd toward Reliez Ct 5.2 mi
2. Slight left at Alhambra Valley Rd 7.6 mi
3. Turn left at Castro Ranch Rd 2.3 mi
4. Turn left at San Pablo Dam Rd 5.4 mi
5. Turn left at Bear Creek Rd 4.1 mi
6. Turn right at Happy Valley Rd 1.7 mi
7. Turn left to stay on Happy Valley Rd 2.4 mi Ends back in Lafayette

Note: Trip can be made shorter by turning left at Bear Creek Rd.
Scenery
Great rolling hills and scenic vista's of multiple reservoirs lying just northeast of the Berkley area. You'll see both the San Pablo and Briones reservoirs. This diverse area includes shady canyons and sunny open roads!
Road Quality
A little bit of everything for everyone. Lots of twisties, but wide open gently curving highways to be had as well.
Roadside Amenities
Not much to be had on this route. This is an afternoon cruise waiting to happen if you're looking for 1 hour ride without getting too far out of the Bay area.
Additional Info
- View the weather forecast for this area from Yahoo weather .
Nickname (optional) : T. Griffin