Southeastern West Virginia - Peterstown to Sweet Springs + ADD NEW ROUTE
6 in West Virginia West Virginia57 Miles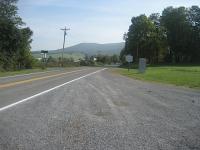 By Missin44
on September 1, 2009
Written Directions
Begin in Peterstown, WV or Rich Creek, VA, head north on Rt 219 toward Union, WV. In Union turn right on Rt 3 toward Gap Mills/Sweet Springs, WV. Pass through Sweet Springs to the WV/VA state line where the route number changes to Rt 311. Continue into Virginia...
Scenery
You'l be passing through rolling hills, farms, mountians, and quiet peaceful countryside (This route continues into Virginia - Southwestern Virginia - Sweet Chalybeate to Monterey).
Road Quality
Very few twisties, some nice sweepers, road is well maintained, nice rolling hills. One of my favorite rides anywhere.
Roadside Amenities
Small towns and a little shopping along the way. Union is a very nice little town with restaurants yet nothing fancy but good food in a number of locations.
Additional Info
- View the weather forecast for this area from Yahoo weather .
Nickname (optional) : Missin44