Woodbridge, VA to Seneca Rocks, WV and Back + ADD NEW ROUTE
4 in Virginia Virginia323 Miles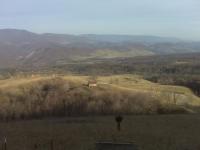 By Steve Jaeger
on July 1, 2004
Written Directions
- Off of I-95's exit 152 in Dumfries Virginia, you'll find VA SR-234. Start this route by heading north on VA SR-234 and drive about 15 miles on 234 and in to Manassas, VA. Look for the intersection of 234 and Wellington Rd/Richmond Ave.

- Turn left onto Wellington Road and drive about 10 miles northwest up to US-29.

- Turn left at the intersection of US-29S/Wellington Road and just go two short blocks or so and you wan to turn right on to SR-55 heading west northwest. Drive for about 42 miles on SR-55 following signs through Marshall and Front Royal toward Strasburg VA and you will cross the WV/VA border. SR-55 is a great motorcycle road through hilly Virginia farm land, small towns, etc.

- After you cross into West Virginia following the signs to Wardensville, WV. In Wardensville you will come to an inverted "Y"-junction with a car dealer in the middle of the "Y", turn left and continue on SR-55/SR-259S to Baker, WV. Note: WATCH OUT FOR THE SPEED TRAP

- They actively monitor the speed limit.

- In Baker, WV continue on SR-55 toward Moorefield, WV. Stay on "old" SR-55 when possible, it is a great scenic, curvy road and a joy to ride on a motorcycle. There is a "New" section of SR-55 before Moorefield, WV but the old SR-55 is a much better riding road.

- In Moorefield, WV follow US-220S/SR-55 toward Petersburg, WV

- In Petersburg, WV pickup West Virginia SR-28S and follow signs along the beautiful winding North Fork of the Potomac River's South Branch to Smoke Hole Caverns and Seneca Rocks, WV. A stop at Smoke Hole Caverns is a nice respite, and the surrounding mountains are GORGEOUS!

- At the intersection of SR-28S/US-33 is the Seneca Rocks viewing area. There are a couple great little country store type establishments at this intersection. Be sure to take lots of pictures, and if you go up US-33W a little bit, you can get a great panoramic picture of the mountain and stores. (Zip Code: 26884)

- To return to Woodbridge, VA continue southeast on US-33E to Judy Gap, WV.

- Follow US-33E all the way to Ruckersville, VA. This route is great for motorcycling, and you will go across three (3) mountain ranges along the way. At least once, we had a 180 degree switch-back with a steep uphill climb. It was GREAT!!!!!!!!! My riding partner's GoldWing and my Shadow 750 had no problems (except we wanted more!!!).

- At Ruckersville, VA pickup US-29N and head back toward Gainesville VA, and as you get back on to Wellington Road, you will have made a full loop. Take Wellington Rd east in to Manassas, VA. Now look for the signs for SR-234E and take that to head back to the starting point in Dumfries, VA.
Scenery
Excellent scenery. Wonderful Virginia rolling hills and farmland; beautiful mountains and streams in the West Virginia Potomac Highland Region. Photo contributed by a visitor in July 09: "Enjoying the ride on Rt. 55."

Update provided by "Wojo" in July of 2013: "This route will traverse several different ridges of the Allegheny mountain range. From Moorefield to Franklin, there are numerous vistas and several overlooks as well as stopping points to view the headwaters of one of the branches of the Potomac river. Seneca Rocks is the highlight of this route. It's 900 foot rock walls are popular with climbers and several areas are available for viewing."
Road Quality
A variety of long sweeping curves, tighter turns and twisties, and long gorgeous cruising. Coming back to Virginia from Seneca Rocks, WV (through three mountain ranges) on US-33E is wonderful. On one mountain pass, you will conquer a 120 degree switch-back with an immediate 30 to 40 degree uphill climb!! What a rush!!!

Update provided by "Wojo" in July of 2013: "The entire route is made for motorcycles. Every realm of riding is covered and the pavement is all in fine shape. Especially fun are the curves and switchbacks from Franklin to Brandywine."
Roadside Amenities
Great scenic overlooks to take in ... bring your camera!!! Many little towns with eateries, gas, etc. I get 45 mpg from a 3.6 gallon tank and had no problem getting gas every 100 miles or so. When you get to Seneca Rocks, you've got to stop by the Monongahela National Forest and take in a beautiful park and very interesting Seneca Rocks discovery center. There you can picnic, hike, or get crazy and do some world class rock climbing. I also recommend you check out Smoke Hole Caverns as it has the world's largest Ribbon Stalactite, a free wildlife museum, restaurants, motels and other accommodations.

Update provided by "Wojo" in July of 2013: "There are plenty of places to stop along the way with mostly mom & pop operations. Particularly at the junction of Rt 33/28/55 at Seneca Rocks, there is a stopping point for food, drink, gas and rest. A clear view of Seneca Rocks complete with coin-operate binoculars available.

There are plenty of side trips to take off of this route. Lost River, Smoke Hole Caverns, Cass & Green Bank are other areas to be explored. During fall foliage, this route will be spectacular! With a little planning, this could easily be a 2 days trip. Cabins abound along the route in Cabins, WV. Google the town for lodging availability."
Additional Info
- View the weather forecast for this area from Yahoo weather .
Nickname (optional) : Steve Jaeger