Route 80 in the Beautiful Southwest Corner of Virginia + ADD NEW ROUTE
23 in Virginia Virginia64 Miles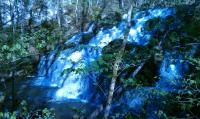 By Bill
on July 1, 2004
Written Directions
The starting point is easy to find - just find exit 24 off of interstate 81 (which is north of Abingdon, VA at Meadowview, VA). At this exit you will be on route 80 (take 80 north) and be able to take that all the way through Honaker, VA and on to the end of the route at the Kentucky state line. Here you can visit "Breaks Interstate Park."
Scenery
You'll see incredible scenery that includes mountains, rivers, old buildings, historic landmarks and end up at beautiful Breaks Interstate Park inside of the Jefferson National Forest.
Road Quality
Endless twists, turns, hills some flat and straight for resting. The roads are old country roads that include both rough and smooth sections. In my opinion, better than the dragon.
Roadside Amenities
There are rest areas in small towns but the real thing to see is Breaks Interstate Park as its the main tourist attraction in the area.
Additional Info
- View the weather forecast for this area from Yahoo weather .
Nickname (optional) : Bill