Ashley National Forest to Flaming Gorge National Recreation Area + ADD NEW ROUTE
14 in Wyoming Wyoming108 Miles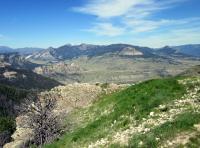 By BlueWing
on June 1, 2009
Written Directions
Route starts on US 191 at Vernal, UT. go North thru Ashley Forest to Hwy. 44 the to Hwy. 530 around Flaming Gorge to Green River WY. To get to the dam stay on US. 191.
Scenery
On this ride you'll see Aspen forested hills, red rock canyons, beautiful overlooks of the Flaming Gorge reservoir, with views that make you feel as if you can see forever!


Road Quality
This road is a lot of fun with hilly sections including a lot of twists and turns. The road conditions are good and there are nice places to pull off to enjoy the views.
Roadside Amenities
Not much once you leave Vernal, UT. Manila, WY does have gas and a convenience store.
Additional Info
- View the weather forecast for this area from Yahoo weather .
Nickname (optional) : BlueWing
By Guest
on May 1, 2010 1 out of 1 members found this review useful.
By GJRonK
on September 9, 2014 0 out of 0 members found this review useful.