Lower Crabapple to Enchanted Rock + ADD NEW ROUTE
69 in Texas Texas20 Miles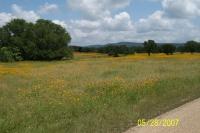 By Anonymous
on May 1, 2009
Written Directions
From Fredericksburg, TX take N Llano St north east and you'll see Lower Crabapple Road on the left. Take Lower Crabapple road north till it runs into Ranch Road 965 and go right. Take this another 5 or so miles and you'll arrive at Enchanted Rock State Park (amazing!!).
Scenery
Hills, wild animals, creeks, and windy roads are some of the great features of this road. At the end you'll see "Enchanted Rock" which is an amazing site. From the Texas Parks and Wildlife website: Enchanted Rock is "a huge, pink granite exfoliation dome, that rises 425 feet above ground, 1825 feet above sea level, and covers 640 acres. It is one of the largest batholiths (underground rock formation uncovered by erosion) in the United States".
Road Quality
These are typical paved road. There are some bumps and blind spots but none of them are major
Roadside Amenities
If you detour from the road for about 8 miles to willow city (on to Eckert Rd) there is a store but that is it other than the state park.
Additional Info
- View the weather forecast for this area from Yahoo weather .
Nickname (optional) : Anonymous
By Guest
on January 31, 2010 1 out of 1 members found this review useful.
By Guest
on January 8, 2010 1 out of 8 members found this review useful.