47 in Texas Texas147 Miles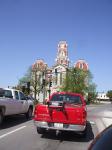 By Dragin'
on July 1, 2009
Written Directions
1. Leave Weatherford heading west on US-180



2. Continue through Mineral Wells and into Palo Pinto



3. In Palo Pinto turn left onto FM 4



4. Take FM 4 through Lone Camp to IH 20



5. Go west on IH-20 about 7 miles to Exit 373



6. Exit onto TX 193 towards Gordon



7. In Gordon turn left at FM 919 OR you can travel a couple more miles to Mingus...



8. In Mingus turn Left onto HWY 108



9. Take Hwy 108 to IH-20



10. Go East on IH-20 about 2.5 miles



11. Exit 370/ TX 108 towards Stephenville



12. In Stephenville turn left onto US 377



13. In Granbury take the exit for Business 377 and go to the square



14. On the square turn left onto FM 51 back to Weatherford
Scenery
Great scenery through the Palo Pinto Mountains. The mountains towered over us. Lots of rolling hills and TONS of bluebonnets in the Spring.
Road Quality
Lots of twisties, turns, curves and enough straight patches to enjoy the scenery. Bluebonnets outside Weatherford
Roadside Amenities
Towns include Fort Worth, Weatherford, Mineral Wells, Palo Pinto, Lone Camp, Gordon, Mingus, and Stephenville . Gas and food available especially in Palo Pinto.
Additional Info
- View the weather forecast for this area from Yahoo weather .
Nickname (optional) : Dragin'